Prairie iGEM
The education arm of the BioExM Network includes the Prairie iGEM Team, which is an interdisciplinary undergraduate student group that researches and designs solutions to real world problems through the employment of techniques in synthetic biology, genetic engineering, and microbiology.
What is iGEM?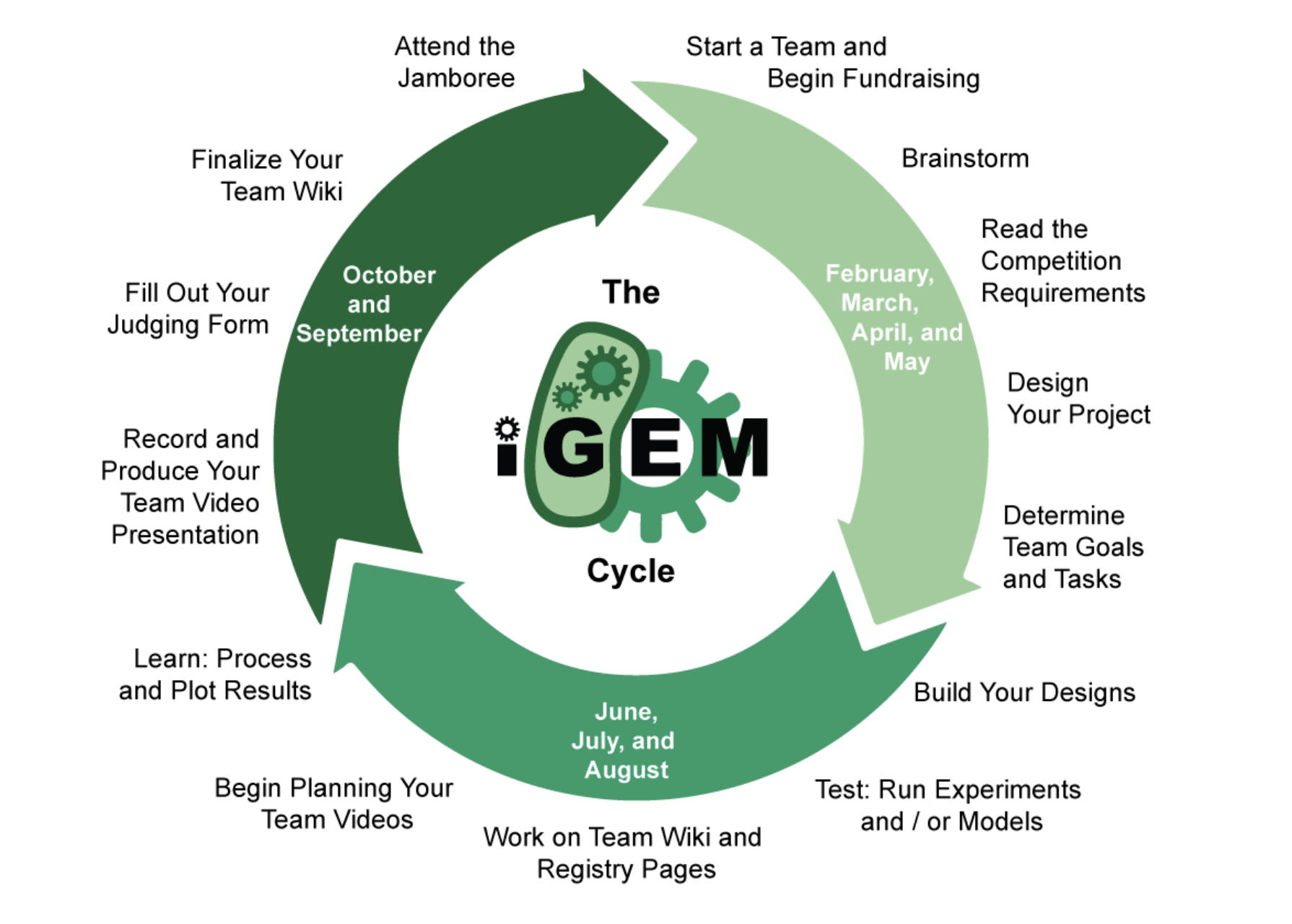 The International Genetically Engineered Machine (iGEM) foundation is a non-profit organization that encourages the development of an open and collaborative community focused on the advancement of synthetic biology via education, competition and collaboration. The iGEM cycle provides a brief overview of a the timeline of a iGEM team project: team recruitment, project development, building design(s), testing, data analysis and troubleshooting, video production, and project presentation at the iGEM competition.
The iGEM competition showcases work from team projects focused on biosynthetic engineering, where teams are encouraged to solve real world problems using synthetic biology (i.e., building novel devices). The overall objective of this annual competition is for teams to create reusable parts known as BioBricksTM, which are genetically encoded parts characterized (standardized) functions. These BioBricksTM are then incorporated in a standardized registry and their function can be applied from one project to another.
In this competition, teams highlight their work by creating a team wiki, a promotional video, and a research poster to present their project. Aside from the competition, students are able to engage and work with like-minded individuals, expand their professional network, while further developing their skills and applying their knowledge in a project on a topic of interest.
Our Team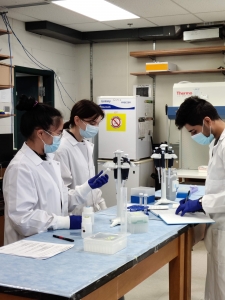 Our iGEM team was formed in 2019 at the University of Manitoba, then officially adopted the name Prairie iGEM in 2020. Our team's members come from diverse educational backgrounds, which allows us to take an interdisciplinary approach to problem solving and encourage the generation of innovative solutions through the collaboration of different disciplines.
Through iGEM, students can apply their theoretical and practical knowledge while addressing real world problems. Members can further develop their skills as scientists, gain experience in the lab, and learn new techniques (working as a team and independently) by conducting research experiments.
Prairie iGEM is strengthening the Manitoba SynBio (synthetic biology) community, helping students gain experience performing lab work, and other aspects of research: experimental design, fundraising, technology, and presenting. Students take initiative by connecting with stakeholders for project insight, feedback and potential funding.
Teams are also required to create a wiki webpage, a promotional video, and a project poster to display team information and present their project. Here, students gain experience creating a research poster and communicating their project to an audience. Students can further develop skills in communication and content creation (website building, promoting, or presenting their work), which are highly transferrable to future endeavours outside of iGEM.
Current Project for 2022: Invasive Zebra Mussels
Our team's current project uses synthetic biology to address the current zebra mussel (Dreissena polymorpha) infestations in Manitoba's waterways by designing a device that is both relevant and applicable to those directly affected by and dealing with this invasive species.
To this end, we are developing a biological device that delivers an anti-zebra mussel agent in the presence of high concentrations of zebra mussels, which contains:
A promoter system detecting changes in water chemistry associated with Dreissena polymorpha, to control the expression of,
A gene encoding a protein that is selectively toxic to Dreissena polymorpha.
---
To find out more about iGEM visit the sites below, or contact the Prairie iGEM team by email: uofm.igem@umanitoba.ca.
(last updated by CA: July 10, 2022)
20