Dr. Mark Belmonte appointed to expert panel by the Council of Canadian Academies (CCA)
Panel to explore the challenges of using gene-edited organisms and technologies (e.g., CRISPR/Cas9) for pest control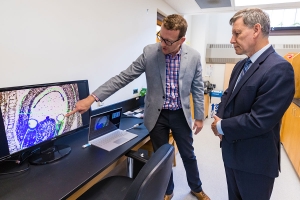 MAY 31, 2022 — 
Mark Belmonte, Professor, Department of Biological Sciences at the University of Manitoba, has been appointed as a member of the Expert Panel on Gene-edited Organisms for Pest Control at the Council of Canadian Academies (CCA), which has been tasked by the federal government and Health Canada's Pest Management Regulatory Agency.
As CCA reports:
What are the scientific, bioethical, and regulatory challenges regarding the use of gene-edited organisms and technologies (e.g., CRISPR/Cas9) for pest control?
"Understanding the challenges and potential outcomes of these technologies for pest control is critical to informing debate and discussion about their use and I can't think of a better group of people to take on this question," said Eric M. Meslin, PhD, FRSC, FCAHS, President and CEO of the CCA.
​The Belmonte Lab at the University of Manitoba studies the cellular and molecular functions of plant development and plant pathogenesis. Through innovative research we strive to find new sustainable technologies to improve and protect some of Canada's most important crops.
Learn more about research in the Belmonte lab.