From One Extreme to Another:  Dr. Allyson Hindle's Research Tests Limits
Dr. Hindle is a recipient of the 2019 Faculty of Science Honoured Alumni Awards
When describing the difference between arriving in Winnipeg in the winter and arriving in Antarctica to perform field work, Dr. Allyson Hindle's answer is telling: "In Antarctica, there are mountains in the background".
A native Winnipegger, the comparative animal physiologist means no disrespect to her hometown. In fact, Hindle (now an assistant professor in the Department of Anesthesia at Harvard Medical School) believes growing up in Manitoba's extreme climate prepared her well for working outside all day in Antarctica, "… the coldest, driest and windiest of all the continents."
Hindle completed her BSc (Hons) in Zoology at the UofM in 2000. It was at this point in her academic career that she began to take an interest in comparative physiology. Based on her Honours thesis research on short-tailed shrews, her first scholarly article (entitled "The heat increment of feeding and its thermoregulatory implications in the short-tailed shrew (Blarina Brevicauda)") was published in the Canadian Journal of Zoology.
Inspired, Hindle went on to obtain her MSc in Zoology under Dr. Robert MacArthur in 2002, her topic being the thermal biology and diving physiology of semi-aquatic muskrats. She next attended Texas A&M University for her PhD, focusing her research on muscle aging in shrews and the diving physiology of Weddell seals, whose distribution in Antarctica is the furthest south of any mammal. As such, Hindle's field work involved leading teams of researchers to Antarctica to study these amazing creatures, who can dive for extended periods without coming up for air.
Upon graduating from A&M in 2007, she returned to Canada for a post-doc position at the University of British Columbia. There, she studied the energetics and diving biology of Steller's sea lions from 2008 through 2010, moving on to the University of Colorado. Her focus at UofC was the hibernation physiology of thirteen-lined ground squirrels.
As a comparative animal physiologist, Hindle takes for her inspiration those who have tested their endurance to the extreme in the pursuit of their objective. She names one particularly famous individual as an example:
"I am inspired by human explorers, who have taught us so much about our planet and about our own capabilities and limits. One of my heroes is Sir Edmund Hilary, the first to summit Mount Everest, and who reached both the North and South poles."
Hindle herself is no slouch when it comes to pushing her limits. Originally tempted to pursue physics in university, she opted to compete not once but twice in the last two astronaut recruitment campaigns by the Canadian Space Agency. In 2008-2009, she was the only female to make the shortlist of 12 candidates from a starting pool of over 5,000 applicants. In the 2016-2017 campaign, she made it to the final 32 candidates (of 3,772).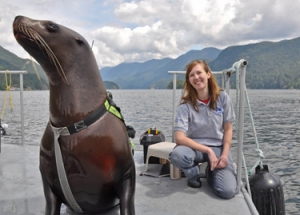 Currently, Hindle studies animals that naturally possess extreme physiological traits, such as diving seals and hibernating ground squirrels. She wants to understand how hibernators use torpor to survive the winter, and how seals can hold their breath for an hour without having a heart attack or stroke. Her goal is to discover how these animals protect their cells and tissues in low oxygen and low temperature conditions. Specifically, she is interested in cardiovascular regulation, hypoxia tolerance and muscle disuse atrophy.
All of these insights are crucial to understanding how and when physiology limits the conditions in which wild populations can thrive. Hindle's hope is that discovering the means by which diverse species endure extreme conditions (known to be challenging for humans) will help uncover new potential human therapies.
Hindle feels that the variety of her job, which provides a combination of administrative tasks, lab experiments and field work, gives her the opportunity to keep learning on a daily basis. As if all of that wasn't enough, she is the author of 30 refereed publications, with active National Science Foundation grants in the region of $3 million USD.
As with many successful researchers, awards come with the territory. Hindle has received numerous awards and scholarships, including a Canada Graduate Scholarship (2003), a Research Recognition Award for the American Physiological Society (2011), and an APS Early Career Advocacy & Policy Fellowship (2015-2017). She recently received the New Investigator Award from the Comparative and Evolutionary Physiology Section of the APS (2018).
So, what does this daring, successful and hardworking researcher advise young science students who might be thinking of a career in scientific research?
"The best advice I could give is to leave some room for serendipity, even in the most carefully constructed plans. Some of the most interesting opportunities arise unexpectedly. Be dedicated to the work you are doing, but be prepared for anything!"
By Jo Davies
---
2019 Faculty of Science Alumni Awards Event
Recognizing graduates who have made remarkable contributions to discovering the unknown, inventing the future, and advancing the well-being of society.
January, 31, 2019
Marshall McLuhan Hall (University Centre)
University of Manitoba, Fort Garry Campus
3:30 pm- 5:00 pm
The event includes a Careers in Science Panel Discussion and Q&A where our distinguished guests will share their experiences and offer advice to students about selecting areas of study, navigating career paths, and using their degrees in sometimes unconventional ways.
A reception will follow. Everyone is welcome to attend.