Honours Program
INFORMATION FOR STUDENTS
Honours students' experience in scientific research, from the inception and planning stages through experimental execution, data analysis, written reporting and oral communication. They receive support from and are evaluated by their Honours committee which consists of an advisor and two additional committee members.
Honours Course Outline 2022-23
AWARDS FOR OUTSTANDING HONOURS WORK
NOTE: Deadlines and details for any awards not provided here can be found in the University's Award Database.
Shirley Ann Akins Undergraduate Thesis Proposal Prize
Up to three awards of $500-$750 each will be awarded to the top applicants to support their honours thesis work. Candidates must be enrolled in BIOL 4100 and will be required to submit an electronic application to the Chair of the Honours Thesis Committee.
The application should include:
A summary of the Honours research proposal (maximum 500 words) written exclusively by the student.
A signed note/email from the thesis supervisor confirming that the student has written the proposal summary without input from the supervisor and will implement the thesis research.
Dr. Lane Graham Prize for Best Honours Thesis
An annual ~$1375 award for the best honours thesis, which is decided by the Honours Committee after the final oral defence. Upon his retirement from the Department of Biological Sciences, Dr Graham set up an endowment to support this award.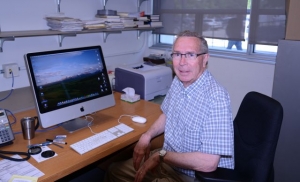 Dr Graham came to the University of Manitoba in 1970 and taught Introductory Biology, Invertebrate Zoology and Parasitology. He always considered the Honours Thesis to be an important component in the training of a scientist in Biology and felt strongly that the best and brightest young students should be recognized for their achievements.
The Ronald K. Stewart-Hay Memorial Bursary
$4500 is available for students who have completed year 3 of study in BSc Honours and are currently enrolled full-time in the Honours programme. It requires demonstrated academic excellence (no minimum GPA cut-off) and demonstrated financial need.
INFORMATION FOR ADVISORS AND COMMITTEE MEMBERS
Guidelines for Honours Supervisors
Students receive feedback from their committee during two formal meetings before the final defense. Forms to be completed by each committee member:
SOME ACCOMPLISHMENTS OF FORMER HONOURS STUDENTS:
Tim Gingera (2012–2013, advisor M. Docker) published a first-author paper in Journal of Great Lakes Research (2016, 42: 649–659).
Laura Eliuk (2016-2017, advisor J. Detwiler) won the best undergraduate oral presentation at the Rocky Mountain Conference of Parasitologists Sept 8-10, 2016 at the Cedar Point Biological Station, Ogallala, NE, USA.
Paige Anderson (2015-2016, co-advisors S. Renault and J. Markham) presented her research at the 2016 Canadian Botanical Association Conference, Botany on the Edge, in Victoria, BC.
Matthew Martens (2015-2016) won the bronze prize for his poster presentation at Child Health Research Day hosted by the Children's Hospital Research Institute of Manitoba.
Lawrence Lam (2014-2015, advisor Kevin Fraser) published a first-author paper in Animal Migration (2015, 2: 86-95).
Alex Quijada-Rodriquez (2011-2012, advisor D. Wiehrauch) published a first-author paper in the American Physiology Journal (2015, DOI: 10.1152/ajpregu.00482.2014).
Rachel Donnelly and Nikola Svitlica (2014-2015, advisor J. Detwiler) presented their honours projects as

oral and poster presentations,

respectively at the 2015 American Society of Parasitologists meeting in Omaha, NE. Rachel received the Marc Dresden Travel award from ASP and Undergraduate Travel Support from the University of Manitoba to attend this meeting.
Stephanie Hans (2012-2013, advisor D. Wiehrauch) published a first-author paper in Marine Biology (2014, 161:1179 – 1193).
Ashley Haverstick (2015-2016, advisor J. Marcus) won the Deborah McCallum Prize in Cell, Molecular, & Developmental Biology, which is for achieving the highest degree grade point average in an Honours or Major degree program specializing in Cell, Molecular & Developmental Biology in the Dept. of Biological Sciences.