Honoured Alum Philip Lee, former Lieutenant Governor of Manitoba offers advice to students.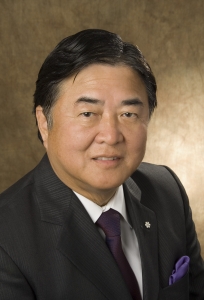 Upon meeting Manitoba's former Lieutenant-Governor Philip Lee, you immediately notice two things:  his sense of humour and his skill in storytelling. The 2020 Faculty of Science, Honoured Alumnus is never at a loss for an interesting and/or amusing story. His time at the U of M is no exception.
He recalls being president of the resident student's association at University College in the mid-60s during a particularly stressful pre-exam period. A group of male residents decided to raid the girls' residence. Lee warned the boys their plan would likely earn them a $500 fine. They'd only managed to collect $300 in advance.
"The next day the provost summoned me to his office. I said, 'Dr. Morton, the boys needed to release pressure. Please be considerate and not impose too high a penalty.' He said he could impose a $500 fine. I said we didn't have that much. So [Morton] took their $300 and paid the other $200 himself."
It's a typically engaging tale from the ninth-born child of the Lee family. Born in Hong Kong at the end of WWII, Lee's parents sent him to a Catholic school run by Canadian nuns at the age of five. He fondly remembers his elementary school, where he was the nuns' favourite and did so well he skipped two grades altogether. In high school, Lee discovered a fondness for chemistry. He especially liked his chemistry teacher, as well as the practice of wearing a white coat during labs.
In 1962, Lee had to decide which Canadian university to attend. His sister had already spent a year at the U of M and asked him to join her. His decision was simplified by the fact the U of M was one of the least expensive Canadian universities. At that time, a year's tuition was $300 and residence fees were another $300.
"So I came here in 1962. I took three courses on campus and two at St. Paul's because it was a Catholic college. I liked the chemistry professor there at that time. Dr. Geisinger was well known on campus as a very good teacher. He taught organic and inorganic chemistry, but organic was his specialty. I learned a lot from him."
In 1966, Lee graduated with his BSc and began to think of returning to Hong Kong. Unfortunately, rioting had broken out in the colony. After several months of unrest, Lee's mother requested they stay in Winnipeg for good. So it was that the Lee family decided to stay in Canada. Lee's fate as a Winnipegger was set.
Fresh out of university, Lee was hired as the City of Winnipeg's first chemist. When the city hired a renowned water quality consultant called Claire Sawyer, Lee was eager to learn from the pioneer researcher. Sawyer had written several books in water chemistry and was well-respected in his field. During studies of Winnipeg's water supply in Shoal Lake, Lee learned a great deal from Sawyer.
"I learned a lot from him, including limnology, which is the science that deals with the study of the quality of water. I found so many microorganisms in water. Many of those can impact on water quality through the growth of algae and so on. To learn that, I wrote at least five reports on water quality. To study how to keep it clean; how to monitor it; and how to educate people not to throw phosphate and so on into it."
Lee praises the U of M for his training on chemical instrumentation. It allowed him to modify the city's lab with newer technology, including spectrophotometers. The new technology, in addition to collaborations with water quality specialists, inspired Lee's many ideas of how to help the City. He prides himself on his initiative to reduce chlorine in Winnipeg's drinking water. At the time, the city used it at a rate of 10ppm.
"After spending a year and a half on research, I found out that the dosage was too high. We only needed one part and it could disinfect the entire system of water. So I used ten per cent and saved the city ninety per cent of the chemical costs. In addition, it gives the water a better taste and reduced the incidence of trihalomethane. It's a cancerous chemical caused by chlorine mixing with organics."
Lee also studied the potential eutrophication of Shoal Lake, advising the City it needed to be more careful with its water supply or risk ruining it. Eventually he became section head for industrial waste water discharge. He monitored effluent in order to determine sewage pollution levels. Lee retired in 2005, after 38 years with the City.
Since settling here, Lee has been an active volunteer in Winnipeg's Chinese-Canadian community. He acted as a translator for local Chinese business leaders. He worked with then-Mayor Steve Juba and the police chief to help new arrivals to the community. That service provided the foundation for Lee's selection in 2009 as Manitoba's 24th Lieutenant-Governor (the province's first Chinese-Canadian in that position). During his six-year tenure, he focused attention on the needs of the visually impaired as well as equal opportunities for youth in general.
His advice for current students? Broaden your scope.
"I would advise students to open up a little bit. Frankly, when you are in the world of science, you need a lot of Arts, too. You have to know a little bit of everything to survive in society. Most of all, you have to understand people. Because a lot of times scientists are too focused with their area of research and they ignore the outside world. So they're not sociable people. In society, you have to learn to be socialized, otherwise you're not moving ahead."
By Jo Davies
---
Careers in Science Panel and Roundtable
2020 Faculty of Science Honoured Alumni Awards

Recognizing graduates who have made remarkable contributions to discovering the unknown, inventing the future, and advancing the well-being of society.
January, 30, 2020
Marshall McLuhan Hall (University Centre)
University of Manitoba, Fort Garry Campus
3:30 pm- 5:00 pm
The event is an opportunity for undergraduate and graduate students to learn about careers in Science while honouring exceptional alumni and celebrating their achievements.
A reception will follow. Everyone is welcome to attend.