Co-op Opens Doors for Computer Science Student Clarke Garrioch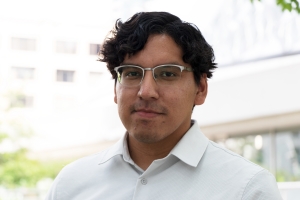 Growing up on the Cross Lake Indian Reserve in Northern Manitoba, Clarke Garrioch understood the importance of education. Graduating at just 16 years old, from Otter Nelson River School, Clarke recognized he would have to leave his community to continue his education. The valedictorian of his high school graduating class, Clarke credits his father for pushing him towards the university. He opted to attend the University of Manitoba, ultimately choosing to study Computer Science. He was 17, scared, and worried about failing. Clarke felt he was not prepared for what he would face at the University. In addition, there was the impact of culture shock, and feelings of being overwhelmed by this newfound independence. Despite this fear and worry, Clarke possessed a strong sense of determination. At the end of his second year, he had earned a 4.0 GPA. Unfortunately, personal circumstances caused Clarke to drop out. With time to reflect and regroup; an "awakening" in Clarke's own words, this allowed for a return to his studies and the Computer Science Co-op program.
Clarke was now intrinsically motivated to improve himself. He desperately wanted to complete his studies so that he could be a positive example for other Indigenous youth.
Despite some initial doubts as to his suitability for the program, Clarke considers his time in Co-op (especially his third year of Computer Science, before and after his second Co-op work term) as his best memories at the UM:
"During that time most of my fellow Co-op students and I were all taking the same courses and sharing our first encounters with the professional world. Struggling together and propping each other up when needed was real fun. It was nice to share that part of the journey together because soon after we all split into our own more specialized areas of Comp Sci."
Clarke also credits the Co-op program with boosting his overall understanding of his subject by giving him professional industry experience that supplemented his studies. One of the most pivotal moments of Clarke's Co-op journey was when he decided to accept a position with RBC, in Toronto, for his third and final work term. This was a big move and a clear sign of just how far he had come. Clarke's supervisor raved about his contributions to their team and commented that Clarke was going to be nominated for the RBC Indigenous Leadership Program. The experience was such a success, it led to him creating an app during his third co-op work term at RBC in Toronto, an accomplishment much appreciated by his team members.
In all of his Co-op work terms, Clarke's mentors, fellow students, and colleagues were a great inspiration. "The guidance from my mentors helped me orient myself in the right direction, as well as grow alongside my friends, which was inspiring and continues to be. Being among them really gave me the push I needed. It also gave me confidence in my own abilities, which I always lacked."
Clarke confesses his initial tendency was towards self-doubt, despite those back home on the reserve having high expectations of him. He feels content in the knowledge that he has met and even exceeded some of those expectations
"It's even better than I exceeded my own expectations. I am very grateful to be among many people I respect and admire; and to feel a sense of belonging. That's somewhere I never thought I would be."
Clarke did so well in the Co-op program that he received not one, but two competing offers from his Co-op employers. After evaluating both, he decided his best course of action was to accept a position with IG Wealth Management in Winnipeg, where he is "…now part of a great team that values me." His next goal is to find a way to give back to his home community. Clarke is already providing mentorship to current co-op students.
"Hope is a powerful thing, and I want to spread that to my people by being a positive example, with whom they can relate."
Clarke urges the future Faculty of Science students not to dismiss the social opportunities they're given, whether through the University at large or the Co-op program in specific. "It's fine if you're shy and afraid because many of us are as well. Step out of your comfort zone if you need to. Those friendships and connections I made during my studies really improved the quality of my time in University and, subsequently, my grades as well."
Clarke graduated in December 2019 with a Bachelor of Computer Science, Honours (Co-op), First Class Honours. Clarke is the first male in his extended family to graduate from university. Well done!
Jo Davies