Work Term Requirements
Through cooperative education, employers and educators share the responsibility of preparing students for rapidly changing social, technological, and economic conditions. All Co-op work term positions must be relevant to the Computer Science field where students are involved in productive work that allows them to gain competence in both their technical and soft skills.
The student must work full time (minimum 35 hours per week)
the student must be paid for the work performed (current salary range is $17.00 to $26.00) or ($400 – $600) weekly. The average wage for computer science students is $20.00 per hour (regardless of the term).
the work term must be at least 12 weeks in duration for (Physical, Natural, Math, Stats Science Disciplines) and 16 weeks in duration (Computer Science), with start and end dates to be determined by the employer or cooperatively by the employer and the student.
the position must be relevant to the student's program of study
the student should be actively involved rather than merely observing.
Formula: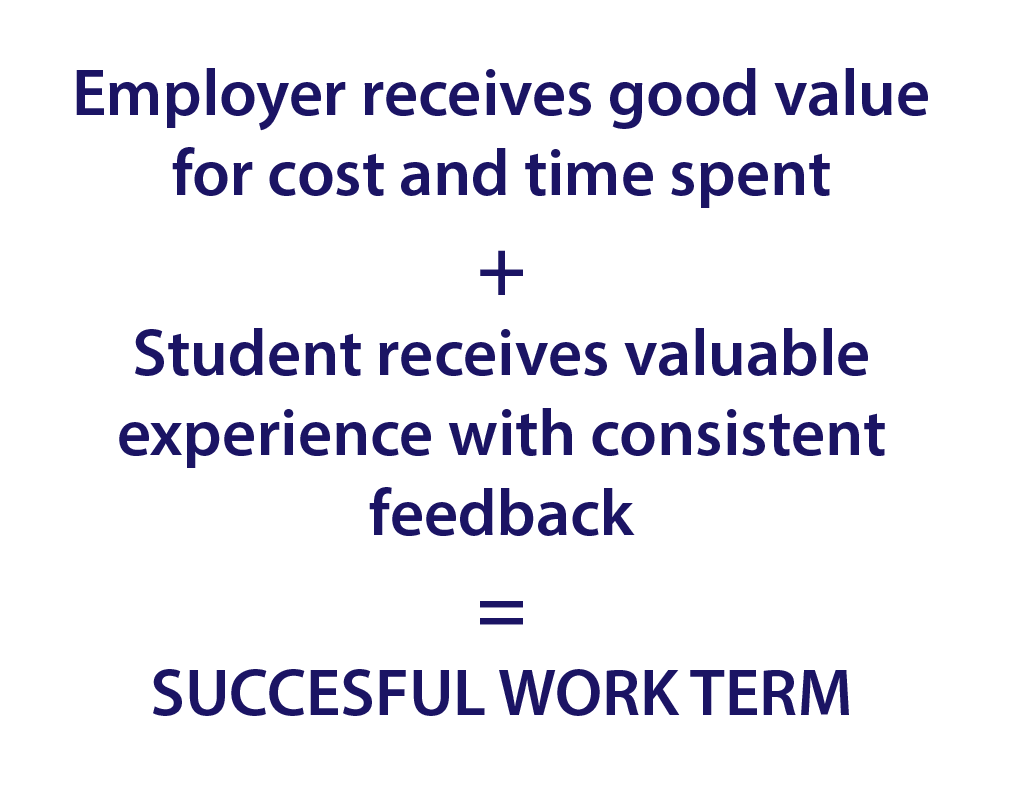 Feedback gathered from students over the past several years indicate that a valuable work term experience normally includes:
A thorough orientation to the employer / department and team. This should include things like dress code, hours, benefits, who reports to whom, the employer / department and team structure, Internet usage rules, and assigning someone to invite the student for coffee or lunch.
A couple of days of training or reading during which time the student can further understand the workplace culture.  More than a couple of days becomes tedious to students – they want to jump in and start contributing!
A very clearly defined set of expectations i.e. what the student has to accomplish or demonstrate to be successful.
Having a specific person or persons to whom questions and ideas can be posed.
Meaningful and challenging work. Students like:

Being busy
Learning new things
Taking ownership of a task or project
Feeling comfortable enough to bring forth new ideas
Being involved in the social side of the work place
Being asked what their expectations include such as what their learning objectives are for the work term in addition to their short and long term goals