Jennifer
Gabrielle Fontaine, Anishinaabe, master's student in physics (Faculty of Science)
Recipient of the Natural Sciences and Engineering Research Council (NSERC) grant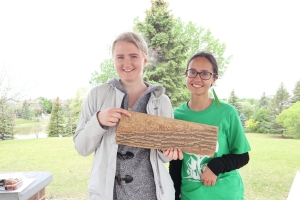 Gabrielle Fontaine's research focuses on breast cancer detection, particularly in low-income areas with limited access to early detection.
"I am currently designing, developing and testing a portable microwave detection device that may be brought to rural populations and developing countries," she explained. "Receiving this grant will allow me to further develop the device and test the performance with breast phantoms."
Fontaine felt grateful to have an opportunity to further the work on this project. "Microwave imaging is a promising modality that I am very excited to contribute my thoughts and ideas to," she said.
Gillian McIvor is a Métis student completing her bachelor of science in biological sciences. She is currently a fourth-year mentor with the Neechiwaken Indigenous Peer Mentor Program, and is finishing her third year in the Indigenous Circle of Empowerment (ICE) program.