Computer Science
Computer Scientists just wanna have fun:
In the early to mid '80s, as Computer Science (CS) was developing as an independent and (somewhat) recognized discipline, the sense of community among CS students, both Co-op and No-op was increasing. Students in CS were far less likely to remain in little cliques of students from whatever high school they came from. Also the number of international students began to increase and we had a very diverse study body. Computer Science was its saw its first huge spike in enrollment in the mid 80s (e.g. a 3rd year course with 280 students in a single section) and it was at this time that social activities began to take off, probably because there was a larger and more interesting group of students in CS from which to find those inclined to organize events. You might wonder if CS geeks socialize. The answer is definitely yes and, occasionally, in some interesting and unusual ways.
In earlier times CS has a standard end-of-year party (the "Ralphies" named in honour of our department head – Dr. Ralph Stanton). This was a much looked-forward-to event for all students and staff that included skits and a number of infamous and well earned awards. There was also a yearly Christmas party at the end of the fall term just before exams that included gifts from "Santa" for deserving recipients. With the advent of Co-op, lead by Dr. Michael Doyle, the summer-term "Doylies" parties were added typically including a large BBQ by the river and a staff-student soccer game in the quad.
In addition to those core, repeating, events there were a number of one-off celebrations recognizing specific events or traditions. These ran from the truly spontaneous (green beer day in Operating Systems class – it was a different era then) to the well-planned such as the "Great Tie Contest" of 1984/5.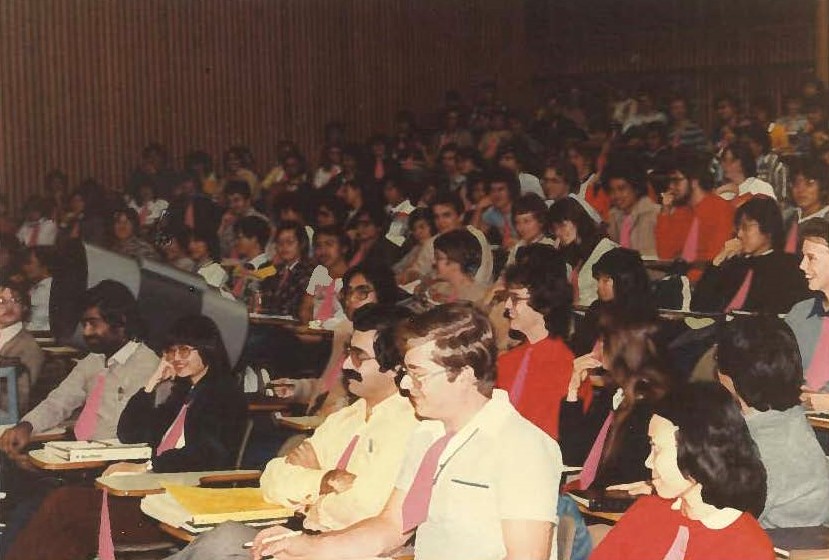 Photo credit: Department of Computer Science, University of Manitoba
This contest was based on a popular rumor (no doubt in my mind, true) that Ralph Stanton would wear *any* tie ever given to him. This included a pink cravat which was truly remarkable and lead to a "big brother" tie that was 6 stories tall and was hung yearly on the Faculty of Mathematics building at the University of Waterloo which is where Dr. Stanton came from. With such ties in mind Computer Science held a content, open to all, to try and find the ugliest tie possible. the event was MC'd by Dr. John Bate (in a tuxedo no less) and by Mike Rogers (wear a black cape) and featured a long list of competitors with some truly revolting ties as well as a few with very inventive ones (bubble wrap and blinking LEDs anyone?) The event, like many others, was a huge sucess and really helped create an esprit de corps within Computer Science at a critical time in the department's evolution from a small niche ara to one with many hundreds of students and link to virtually all other academic disciplines.
By Dr. Peter Graham, Associate Professor of Computer Science, University of Manitoba.