Virtual Science Takeover (FREE) Science Public Talks – Science Literacy Week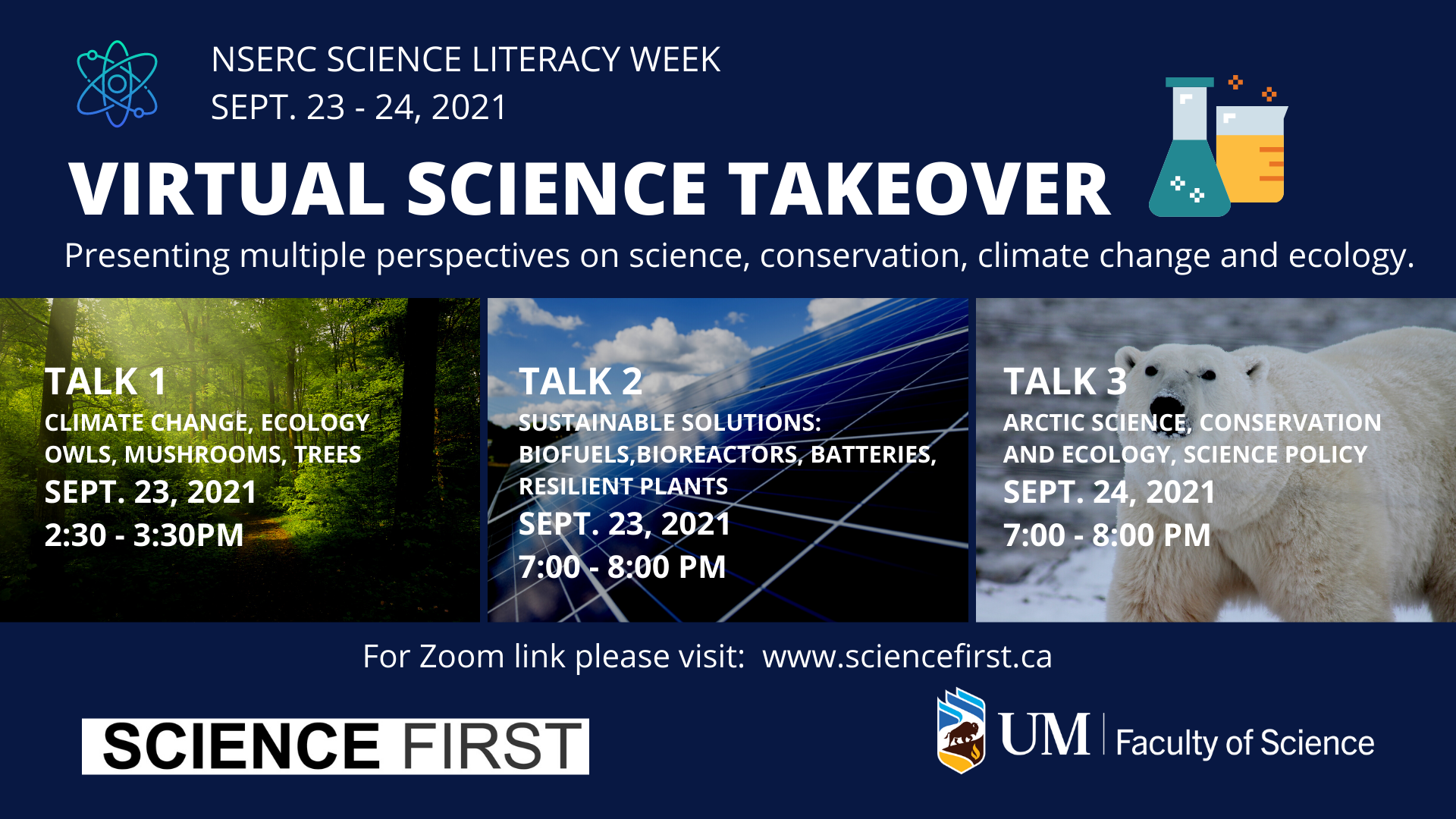 Join the UM Faculty of Science and Science First for an exciting lineup of FREE Virtual Public Talks in celebration of Science Literacy Week, Sept. 20 – 26, 2021.
Our Events:
---
Ariel Gordon, University of Manitoba Press, Writer – Urban Forests, Urbanization, Ecology, Biodiversity, Climate Change
Tom Nagy, Mycologist – Mushrooms, Ecology, Biodiversity
Jim Duncan, [PhD/92], Director of Discover Owls – Wildlife Research and Conservation.
Moderated by Dr. Brian Mark, Dean, Faculty of Science.
---
Dr. Richard Sparling, Professor, Department of Microbiology – Making Money from Trash
Dale Overton, [BSc. (Maj)/05] CEO Overton Environmental Enterprises Inc. – Organics Waste Management, Sustainable Agri-Systems, Soil Ecology and Revegetation.
Dr. Olivia Wilkins, Assistant Professor, Department of Biological Sciences – Plant Genomics & Systems, Climate Resilient Plants
Dr. Christian Kuss, Assistant Professor, Department of Chemistry – Material Science, Batteries/Electric Vehicles
---
Dr. Jane Waterman & Dr. Jim Roth, Professors, Department of Biological Sciences – Arctic Led Climate Research, Predator-Prey Relationships, Endangered Species/Polar Bears and Arctic Foxes.
More details to TBA. Stay tuned.