Standing (L to R): A.W. Cooke (Secretary); E.A. Thompson (Committee); L.G. Thompson (Committee).
Sitting (L to R): Miss Norrington (Vice President); A.A. McCourley (Treasurer); Dr. R.C. Wallace (Honorary President); U.D. Clark (President).
Photo: 1915-16 Brown and Gold Yearbook
Standing: A.H. Sweet; S.K. Clark; L.G. Thompson; A.A. McCoubrey (Secretary-Treasurer).
Seated: A.E. Cooke (Vice-President); U.D. Clark; Annie Norrington (President); Dr. R.C. Wallace (Honorary President).
Seated in Front: C.A. Meritt.
Photo: 1916-17 Brown and Gold Yearbook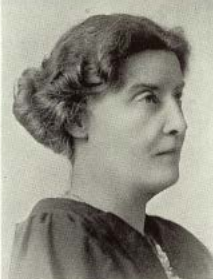 Annie Norrington was ahead of her time. She was born in 1876, 174 miles south west of London in Devon, England. She was later accepted to the University of London and partially completed her course work toward a BSc degree. In 1904, she left the University of London, and embarked a four year journey travelling and teaching throughout the Caribbean and Central America before moving to Winnipeg, Manitoba in 1908. Following her arrival to Winnipeg, she continued her career in education by teaching at Ruperts Land Ladies College, which is now part of Balmoral Hall School.
By 1915, she was admitted to the University of Manitoba. During the same year as her admittance to the UofM, the Faculty of Science Student Council was also formed and she held the position as Vice President for the inaugural 1915-16 academic year. The following year, she held the position of President, making her not only the first female member of the council, but also the first female president of the association. Norrington graduated from the University of Manitoba in 1917. She was also the first female to receive a BSc degree, and was only 1 of the two degrees awarded that year.
Following her graduation, she was admitted to the University of Chicago where she completed her PhD in botany, which was likely inspired by Prof. Reginald Buller. In 1925, at the age of 49, she completed her PhD and submitted her thesis entitled "Phycological study of some of the mountain lakes and streams of the Wasatch and Uinta ranges in Utah". In 1928, she moved to Nelson, British Columbia and began teaching at various institutions including the University of Alberta, Biological Station of the University of Washington. At the age of 88, she died in Victoria, British Columbia in 1965.
Although not much is known about her journey, she will continuously inspire young scientists on of the first female scientists and graduates at the University of Manitoba.
"Miss Norrington has the honour of being the first lady to graduate as Bachelor of Science from the University of Manitoba. She is well known among the students for her enthusiasm, both at work and play. Her thorough  methods and sound initiative wins at once the admiration of her classmates and the confidence of her professors. Her home is at Exeter, in "Glorious Devon," England. Before leaveing that land she took part of the B.Sc. course in London. She then spend three years in Jamaica, and then visited Central America and the Panama Canal. She joined our University in the Fall of 1915 as a Third Year Student, and during the two uears she has been with us has been a most enthusiastic worker in every function. Among the offices which she has held are president of the Science Students, and member of U.M.S.A. May your future, true scientist, bring you the rich reward your work has warranted." – L.V.B., '17
Sources:
http://www.mhs.mb.ca/docs/mb_history/47/manitobascience.shtml
1916-1917 Brown and Gold Year Book