Finding the Right Chemistry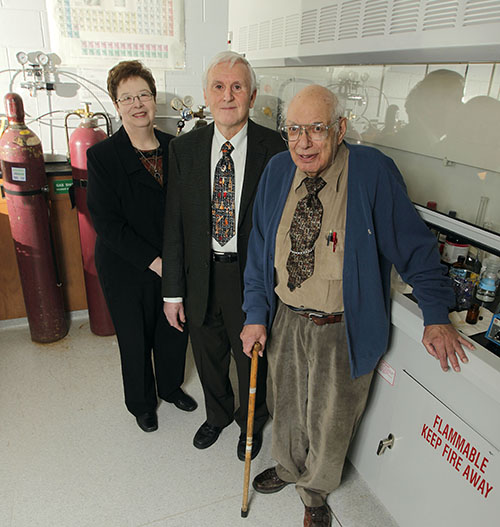 By: Marshall Wiebe
How a summer job opportunity in a lab defined a career and cemented a lifelong friendship "Is there anyone here who doesn't have a summer job yet? This question, posed in a University of Manitoba classroom nearly 50 years ago, set a young Leonard Kruczynski [BSc (Hons)/65, PhD/71] on his future career in chemistry.
The professor who made the query, Dr. Hyman Gesser, would not only find the young undergraduate student a job as a summer researcher in his lab at the U of M, he would also become a lifelong colleague and advisor.
"I was feeling somewhat despondent and was worried about money," Kruczynski Recalls. "When Dr. Gesser asked if there was anyone in the class who didn't have a summer job yet, I quickly raised my hand, no one else did. So started my career as a research scientist."
Working in the lab that summer, Kruczynski was befriended by two graduate students who took him under their wings and showed him the ropes of research work. "They were good to me and I always remembered those days and those people," Kruczynski says. "The boost in self confidence and the lessons I learned that summer stayed with me throughout my career."
Kruczynski went on to acquire his PhD from the U of M in 1971 before going on to do a series of post doctorates in the United States and in Edmonton, Alta. He returned here in the mid-70s as a term instructor and, in a twist of fate, found himself conducting research with Dr. Gesser again. Kruczynksi looks back on this period fondly.
"Working with Dr. Gesser were the most exciting times of my career," Kruczynski says. "I published four or five research papers with Dr. Gesser during those sessions."
Now retired from the U of M, Kruczynski is giving back to the department of chemistry by establishing a student award in honour of his mentor. Kruczynski and his wife Doreen Smith [BA/69,MA/72, PhD/80] have also designated a portion of their estate to establish a graduate award in chemistry.
The Dr. H.D. Gesser Undergraduate Summer Research Award is intended to stimulate interest in research by providing undergraduate students with valuable experience in a research environment and to encourage them to undertake graduate studies.
"I'd like the award to show students that research is exciting and lots of fun," says Kruczynski. "Hopefully, this award will give undergraduates an opportunity to do research and see what it's like and if they want to go on to grad school."
Dr. Gesser, professor emeritus of chemistry at the university, expressed his surprise at being recognized in this fashion. The two men are still in contact and recently met for tea. "I was honoured," Gesser says. "It was certainly something I never anticipated."
Now in his 90s, Gesser sees how this type of award plays an important role for the department and hopes it opens more doors for undergraduates. "These awards give students an opportunity to do something they might not have the opportunity to do," he says. "It fills a hole in the education system."
http://proxycheck.lib.umanitoba.ca/faculties/science/alumni/2109.html