History
Detailed history coming soon!
BELOW: Read the Homecoming Special Lecture, by Dean Emeritus, Dr. R.D. Connor from September 15, 1995.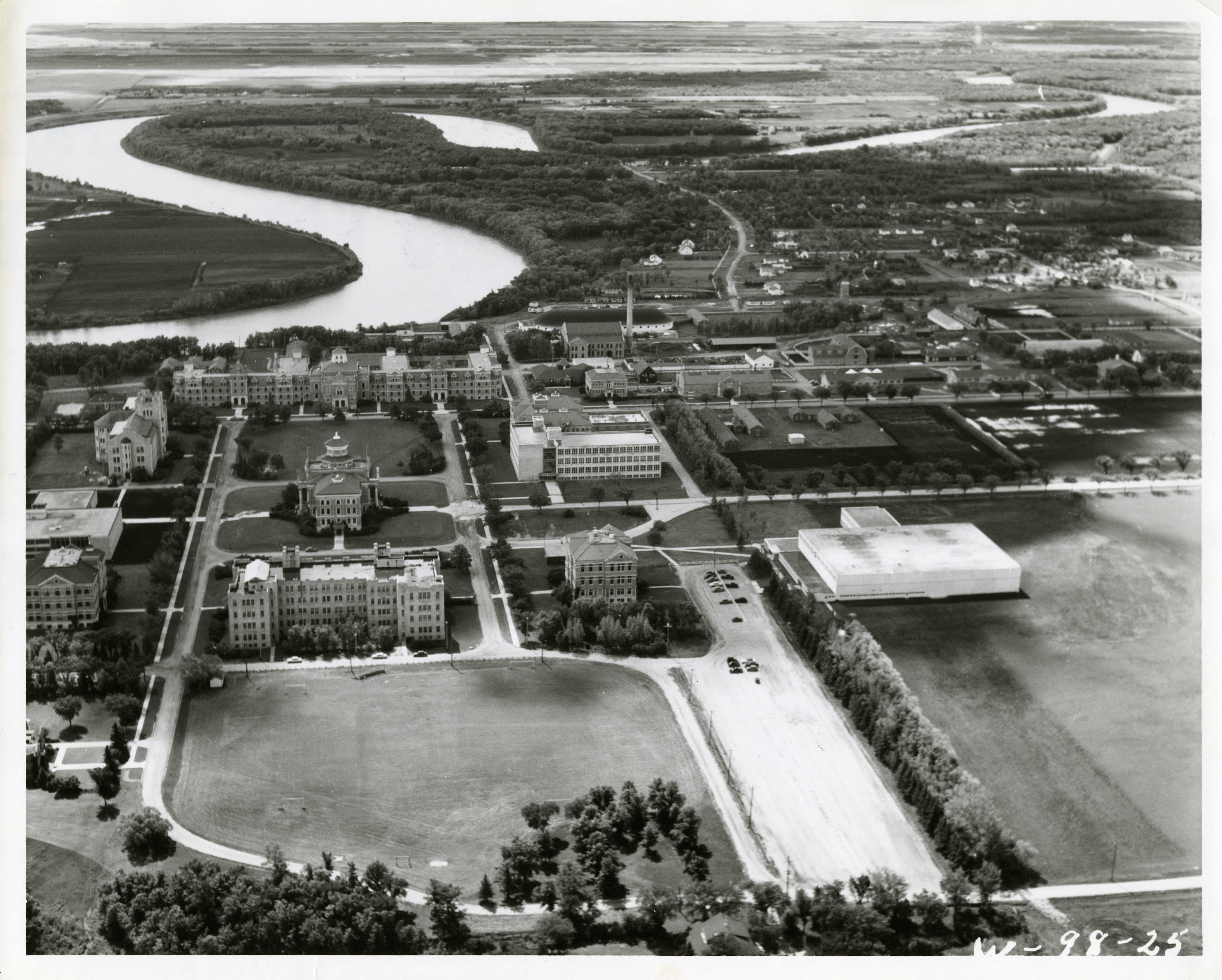 Aerial photograph of the University of Manitoba Fort Garry Campus, 1953.
Note the large field in the foreground (behind the Buller Building) of the photograph. This is the future home of the Armes Lecture Building, Allen Physics Building, Biological Sciences Building, Parker Chemistry Building, Machray Hall, and Duff Robin Building.
Photo: University of Manitoba Archives & Special Collections.
Then and Now – Special Lecture by Dean Emeritus R.D. Connor
Transcription of the lecture given on September 15, 1995.
It is hard to believe that it is 25 years wince the Faculty of Science emerged on its own from originating Faculty of Arts and Science. It is even harder to believe that I came to this university some 38 years ago. At that time there were one third the buildings on the campus that there are today and a lot fewer students. When I arrived Bill Waines was the Dean but was on leave in Africa and Bill Morton of the History Department was Acting Dean. Waines became Vice-President in 1961 and it was then that Bill Sibley became Dean of Arts and Science. At that time Arts and Science made up more than half the University and numbers were steadily rising. The burden was very great so Bill Sibley, having souded out the Department Heads, invited in 1963 to assist as Associate Dean with primary responsibility for the Science end of the Faculty; so I joined him in a happy association that lasted till he went to Mount Allison as Vice President in 1975 and indeed that lasted to this day. He and his wife Mardie have come from Lethbridge to be with us this weekend, so will you stand up and be recognized by your many friends here in Manitoba.
We were a single Faculty till 1970, and when the separation occurred one of the first acts of the new Faculty Council was to recommend that Bill become the first Dean Emeritus of the Science Faculty in recognition of years of devoted service to us all. So I may have been the first Dean of Science but I am only the second Dean Emeritus.
Prior to the division, one of our activities was to gold as series of Lost Weekends off campus with some 40 or so student and faculty members at which the plans for the future could be discussed and the present situation of the University assessed. This proved very popular but the Arts student discontinued it when the Faculty divided. In Science it was continued during my term as Dean till 1979 and I understand that it still happens intermittently.
From 1963 Bill and I enjoyed the support of some truly wonderful people who operated our offices without whom we could have accomplished little. In naming names, I am sure to leave some out but Betty-Ann Weibe, Nancy Laxdal, Sheila Catt, George Richardson, Valerie Matthes, Elizabth Ross, Janice Raymond, Marion Thirsk, Altanta Sloane Seale, Eric Lister, Eric and Thelma Lussier, Sandy Lechner, Vie Taylor, Ron McDole, June Stewart, Lorraine Minnish, Eric Hillman, Bob Lockhart, Elizabeth Kirby deserve to be mentioned for their service in these early days.
The separation of the two branches of the Faculty did not occur overnight. There was some consideration of this in 1964, in early 1968, and in the middle of 1969. There were two reports, one by Dean Sibley, the other by Iain Cooke. From these we can gather that sheer size was a major factor (by 1969 Science was as late as the combined faculties in 1963), coupled with the growing awareness that Arts people desired lots of meetings whereas Science people didn't. The Science view at the time, it would appear, wished to leave administration to those appointed or elected to administer. A senior member of the Arts Faculty expressed the view that the Executive of the Faculty Council of Arts and Science existed to do the chores that Faculty Council told it to do. In this view the Executive had no power to initiate matters which could then be taken to the whole Council for endorsement, modification, amendment or outright killing.
In short, the record shows that the Arts people wanted, in the main, a participatory democracy without devolution of authority other than to the full council itself (a time consuming process as the Greek city states found long ago), while in Science the desire was for a representative democracy in which authority was devolved on its officers and committees subject to review by the general council of the faculty.
In both March and April 1968, there were motions in the Science Council NOT TO SPLIT the Faculty and indeed there was a fear that a split might not be into two but into four: Humanities and Social Sciences making two and the Mathematics Sciences and other Sciences making another two. Various suggestions were forthcoming: could individual faculty members decide which faculty they would be in? This died when someone asked what would happen if the Head of Botany wished to be in Arts which all other members of the Department were in Science.
Sometime in the fall of 1965, I received a phone call from the Deputy Minister of Mines and Natural Resources asking me to go with him to a soccer match the next evening at Alexander Park. This was strange as I was not in the habit of being invited to games with Deputy Ministers, but I went. We did not see much of the game , indeed I do no recall who was playing or what the score was but it quickly became clear that that this was to be a conference on neutral territory. In brief, The Minister told me of the bequest to the Province if a parcel of land known as the Bain estate and, whereas there were other contenders for this property, there was a feeling that the estate, being in the shores of the Delta Marsh as the south end of Lake Manitoba, might serve some University purpose. I said I was sure it could and that a field station might develop there. From this small beginning grew the Field Station we know today. It was one thing to get the land for a dollar a year but another to convert existing buildings and create new; and it had not been for the great efforts, leadership and determination of Jennifer Shay not much would have been accomplished. As it was, under her direction things went ahead. Huts were bought from the  Macdonald air base for a song and moved to the sight (the moving costing mush more than the huts themselves) and with money for restoration and Hugh Saunderson (then president) allowing us a budget sheet for the station we were really in business. This brief account does not do justice to all the blood, sweat, toil, and tears that were Jennifer's lot in these embryonic days.We can never that her sufficiently; Jennifer has certainly left us a legacy.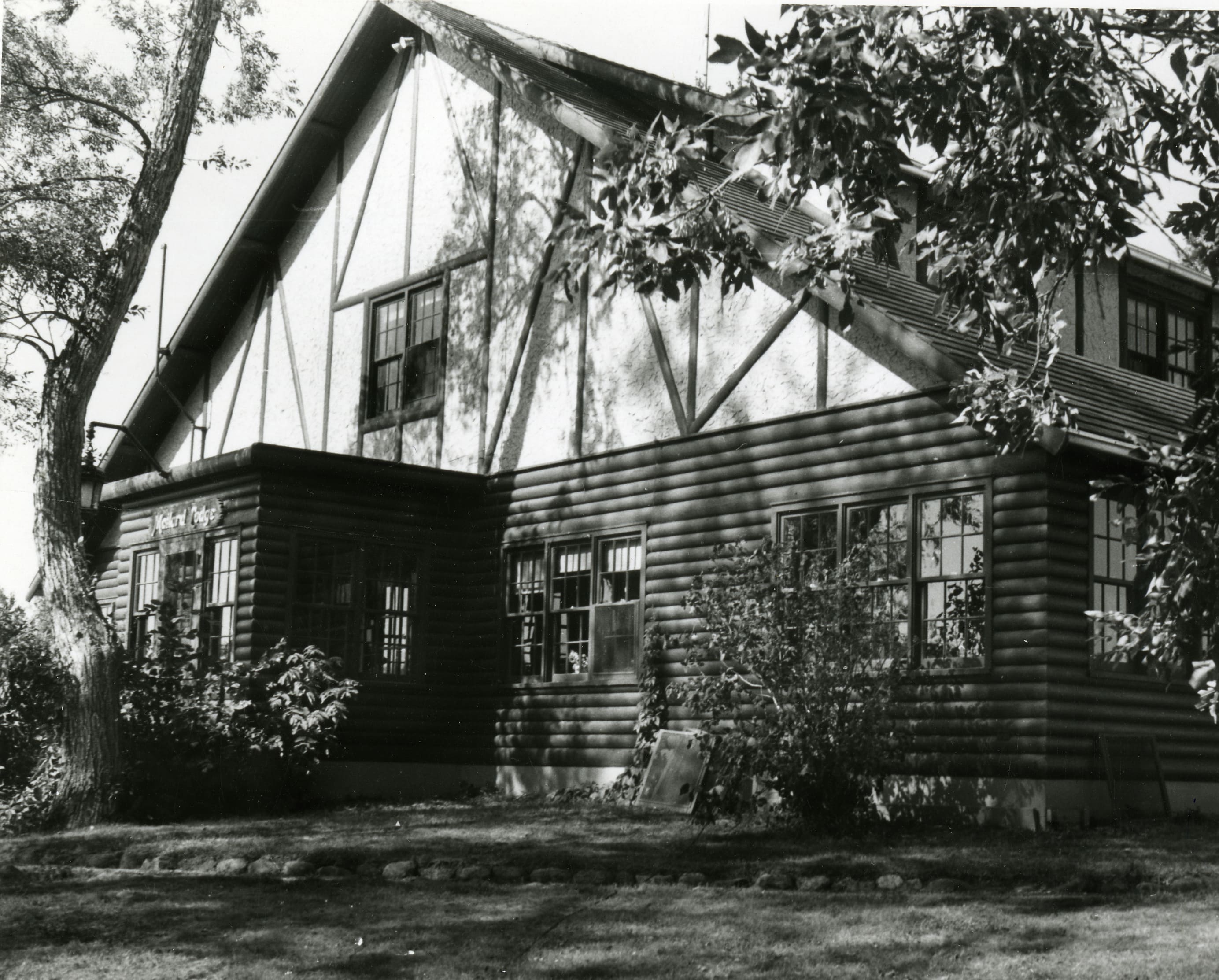 Mallard Lodge at Delta Marsh Research Station
University of Manitoba Archives & Special Collections
There was a plan for the creation of a large lecture block underground in from of what is now the Buller Building to take care of the ever increasing number of students. As well, there were plans for a building to house Zoology and Psychology. I well recall Saunderson calling me in for an opinion; since only one could go ahead, which should it be? With heaven-sent insight I opted very definitely, for Zoo-Psych. As it happened as we will see shortly, the anticipated flood of student did not materialize and the underground never went father than the drawing board. The Zoo-Psych Building (now named the Duff Roblin Building) went to tender in November 1966 with the opening set for May 1969 but actually [opened in] 1970.
However in 1969, there was a change of heart in the two branches of the Faculty. At that time, there were 22 departments and more staff than every, for Statistics came out of Actuarial Mathematics and Statistics and joined Science on July 1, 1967. In the fall of the next year the faculties of St. John's and St. Paul's joined the Faculty of Arts and Science.
A motion was passed on 30 April 1969, calling on the Senate to create a Faculty of Science with 63 for, 1 opposed, and 5 abstentions. Thereafter, matters moved quickly to an amicable divorce. A committee was set up under the chairmanship of Mr. Justice Dickson, then of the Manitoba Court of Appeal. On this committee were representatives from Law, Maths, French, Psychology, Animal Science, Engineering, Home Economics, Anatomy, Chemistry, and 1 student from each Arts and Science, this composition being to ensure that other Faculties and Schools of the University were fully informed and that their concerns, if any, could be addressed. Douglas Rennie of the Department of Sociology chaired a committee to prepare a framework for the two new Faculties. They met weekly and did a wonderful job in submitting a very workable brief to the Dickson committee.
So it was that 1970 saw the new Faculties of Arts and Science emerge and also a new administration, for Saunderson retired having served as President for 16 years and Dr. E. Sirluck from Toronto was appointed. To further complicate matters the University faculty applied in 1973 to the Manitoba Labour Board for certification as a Bargaining Unit. This cannot be said to have been a surprise but it certainly led to innumerable meetings of administrators from Deans and above. I counted my committees-50. The result was that on November 15, 1974, UMFA became a bargaining unit. There was much discussion as to whether Department Heads were in or out of the Union. Specifically, Science heads felt they were 'management' so should be out. The Arts Heads felt the reverse as they were all one with another. The upshot was that the Board ruled that the heads were in.
The Science Faculty created a working executive on the lines mentioned earlier. It was then requested that agendas be published with Faculty being able to attend as observers at will. There was no reason to deny this request so it all duly appeared on notice boards. At the next meeting of the executive, some 8 observers showed up, but for the duration of my administration, no other observed appeared at Executive meetings. I don't know if observes come to today's Faculty Executive or not. I'd be surprised if they did.
The new administration worked on the basis of consensus but with large committees this frequently took for ever. I recall one meeting of the Senate executive that began at 1:40 p.m. on one day and concluded at 1:00 a.m. the next. It was important that we did not fall into the trap that had beset the University of Toronto who did not finish its agendas and simply piled unfinished business into the next agenda. We tried to complete each agenda at each meeting, come what may.
At this time, a semi-permeable layer of Vice-Presidents and Provosts was interposed between the Deans and the President. This worked reasonable well but access to the President was less frequent than in Saunderson's day. A modified version of this arrangement operates today.
It is pleasing to note that this Faculty has had much success in having its Professors recognized as 'Distinguished', a relatively new category. Portraits hang in the Faculty Conference room of:
N. Menhelsohn, Mathematics 1981
T. Schaefer, Chemistry 1982
R. Ferguson, Geological Sciences 1983
A. Morrish, Physics 1984
R. Stanton, Computer Science 1984
G. Gratzer, Mathematics 1985
J.G. Eales, 1989
To them all we offer our congratulations for a job well done.
Dr. Sirluck's administration concluded in 1976 and was succeeded by Ralph Campbell till 1981 when Arnold Naimark took over. Dr. Naimark has indicated that he will stand down next year and a successor is even now being sought.
I asked for and got permission to have two Associate Deans, initially Phil Issac and Iain Cooke, and after Cooke resigned from the University, there were Norm Campbell and Brian Macpherson. Isaac (a botanist and the Provincial Mycologist) looked after the Biology Departments, Cooke looked after student-oriented aspects of the Faculty and I looked after everything else. In practice the triumvirate made decisions together and the relationship throughout was extremely cordial. My successors, Dean Bigelow, Cohen, and Jamieson appointed their own Associates and today they are Dave Burton, Arthur Gerhard, and Hugh Williams.
In the years before the split, our student numbers were rising so rapidly that there were fears that we would soon be no longer to accommodate the number who asked for admission. In 69/70 numbers were expected to continue to rise, the students were in school and predictions were made on that basis. Numbers fell far short and in the next two years continued to fall.
I would like to say for the half century celebrations, 'Same place, same time', but I fear not. Those celebrations will have to be left in the hands of others. Thank you.