Introducing the winner of UM's first Falling Walls Lab
Introducing the winner of UM's first Falling Walls Lab
SEPTEMBER 15, 2022 — 
On Sept. 13, 15 students and early career professionals pitched their grand idea with the potential to change the world at the University of Manitoba's first Falling Walls Lab event. In three minutes, presenters explained their groundbreaking idea to the jury and to a public audience. Falling Walls Lab is an international competition, created by the Falling Walls Foundation, inspired by the fall of the Berlin Wall in 1989.  It promotes research and innovation in all disciplines, by posing the question, "Which walls will fall next?"
Natasha Theriault won the grand prize with her presentation, "Breaking the Wall of Vaccine Equity". Natasha will travel to Berlin, Germany to deliver her pitch at the global Falling Walls finale Nov. 7 to 9. Natasha is a graduate student in the Faculty of Science at the University of Manitoba and also works at Cytophage, a Canadian company that develops bacteriophage products to prevent and treat bacterial infections.
The second prize, sponsored by Research Manitoba, went to Andrew Tse, from the Rady Faculty of Health Sciences. His presentation was entitled, "Breaking the Wall of Prenatal Therapy with Nanoparticles."
The third prize winner was Mun Kim, from the Faculty of Science, for "Breaking the Wall of Genetic Detection using Biosensors."
Calvin Howard, from the Rady Faculty of Health Science, won the audience-choice award for his presentation, "Breaking the Walls of Dementia Diagnosis".
The University of Manitoba believes this is an important opportunity to showcase the world-class research and advances that are happening within the Province. Dr. Darren Fast, Director of Partnerships & Innovations stated: "We want to help move these great ideas from the lab to the greater community and knowing that they exist is the first step in doing so. We hope that several of the ideas presented will be further developed and implemented so that we can make the world a better place."
Congratulations to all the presenters for sharing their exciting research and being a part of this inaugural event:
Chitra Sivakumar – Breaking the Wall of Pulse Flour Formulation in Staple Foods
Jhannelle Francis – Breaking the Wall of Ineffective Wastewater Treatments
Kiarash Shamsi – Breaking the Wall of Charitable Donations
Kimberly Dunthorne (from Brandon University) – Breaking the Wall of Freshwater Pollution
Logesh Dhanapal – Breaking the Wall of Plant-based Meat Sector: Smart Sensing
Mohammad Nadimi – Breaking the Wall of World Hunger
Payam Peymani – Breaking the Wall of Adverse Drug Events and Medication Error
Ruchira Nandasiri – Breaking the Wall of Oilseeds
Sadegh Marzban- Breaking the Wall of Mixed Dementia Diagnosis
Titus Olukitibi – Breaking the Wall of Flu / Covid-19 with a Novel Bivalent Vaccine
Turaç Aydogan – Breaking the Wall of Open Science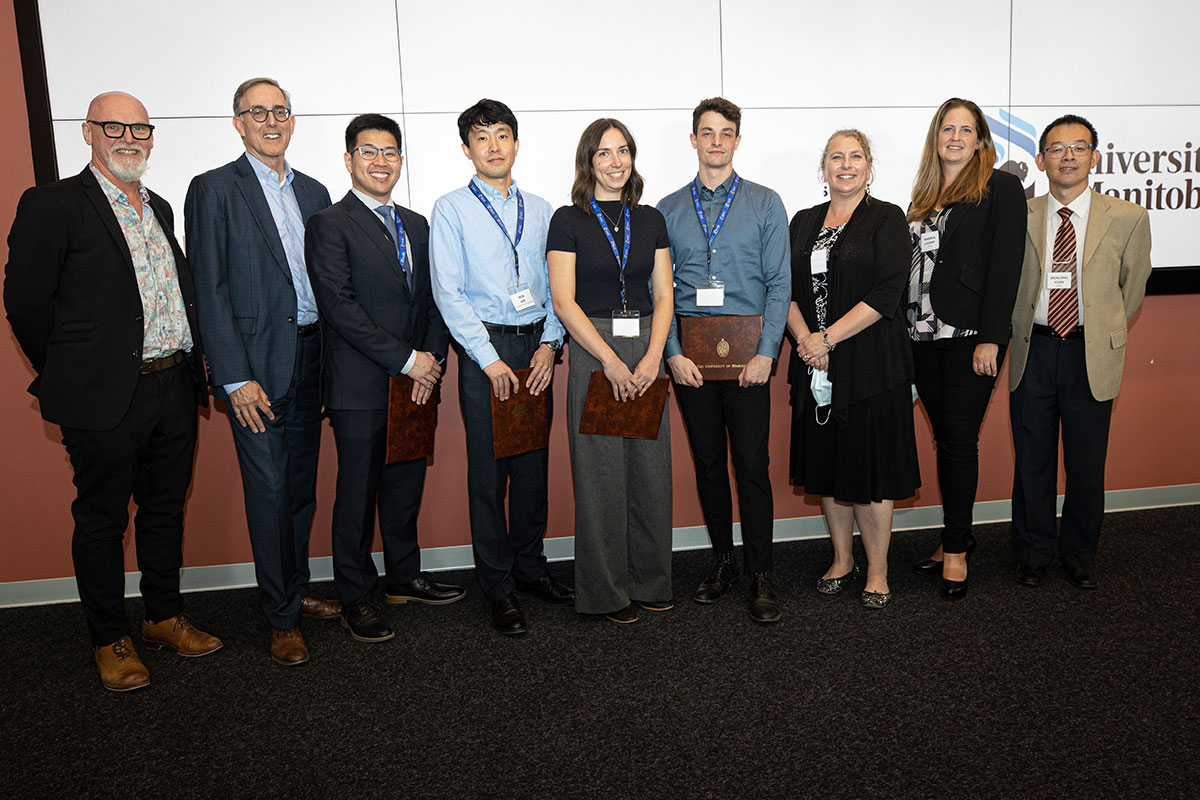 Dr. Jay Doering, UM Associate Vice-President (Partnerships) thanked everyone who attended, saying "This Falling Walls Lab event is an excellent opportunity for industry and researchers to come together and explore new ideas and lay the foundation for the breakthroughs of tomorrow."
UM would like to thank their partners, North Forge Technology Exchange, the Stu Clark Centre for Entrepreneurship, and Euraxess North America, for their support.