MicroGSA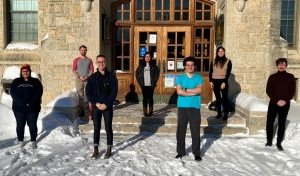 The MicroGSA is composed of graduate student representatives from the Department of Microbiology. Our purpose is to improve the graduate student experience by fostering a sense of community within our department. We accomplish this by encouraging and facilitating social activities and linking our graduate students to other resources. We also advocate for our graduate students and provide them with information and resources to be successful in their graduate degrees.
Some of the events we organize:
Departmental BBQ
Yearly welcome socials
Movie and game nights
Trivia nights at the Hub Social Club
Candy and bake sales
Pumpkin-carving and costume competition
Holiday door decorations
Contact us
MicroGSA is an inclusive environment, and encourages curious parties to get to know us!
Email us um.microgsa@gmail.com