A Common Effort with Uncommon Results: Faculty of Science Engages UM Landscape Architects to Create New Greenspace for Students
When UM faculty and landscape architects Dietmar Straub and Anna Thurmayr were approached by the Faculty of Science to design a courtyard behind the Science Student's Lounge (located in the Armes Building), they jumped at the chance. Volunteering their time, the pair initially met with stakeholders from the FoS and Physical Plant in order to get a feeling for the scope of the project, the budget involved, and to reassure those in attendance that the courtyard wouldn't create more work for maintenance staff.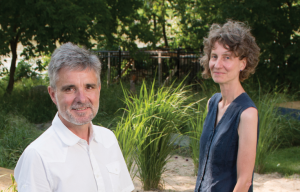 For the husband and wife team, it was a golden opportunity to test concepts, materials and plants they'd been wanting to try out. Straub refers to the process as 'research by design'.
"We were asking for openness and willingness to take risks; to allow experiments; to go beyond the routines and standards of a place. That was a bit challenging, also. Sometimes during the process, we had to remind everybody: 'It's different, but you agreed that we could go beyond the horizon, so now we want to do that.'"
Straub stresses the area is primarily a space for students; whether to relax and get away from the stress of classes and assignments or to focus on studying and learning. Straub likens the courtyard to the natural settings ancient philosophers chose for teaching.
"When Plato founded his academy in Greece, it was a grove outside the gates of Athens, just underneath the canopy of some olive trees. What they taught was philosophy, science and a few more things. They called themselves academics."
Thurmayr agrees, adding that the courtyard is purposely different from anywhere else on campus. Straub hopes those who use the space don't perceive the sounds of the surrounding structures but tune in to their inner silence before going back to their daily routines.
The pair praise Johannes Zinn (J & K Zinn Landscape Contractors), the lead landscaper on the project. Zinn brought a passion to the site that Straub and Thurmayr found inspirational, even going so far as to custom-make some of his tools. Citing the extreme weight of some of the elements used, Thurmayr praised Zinn's creative and logistical contributions.
"Almost everything was a challenge, because it's not standard. It was sometimes a question of how to actually build it. We met onsite and found a great partner in inventing solutions of how to build it. I would say, without Johannes, it wouldn't be what it is. Johannes was lifting the heavy material in here. He always had a solution outside the box; he made it possible. It's really magical."
As for Zinn himself, he says the courtyard is unlike any other project he's tackled since coming to Canada in 1992 as a master agronomist to join his brother's landscaping business. Deciding that if they couldn't compete with established landscaping companies on the basis of volume, the two determined to distinguish themselves by the quality of their work. That mindset served Zinn well when he was faced with challenges of handling materials such as 30-foot-long trees, weighing 2,000 to 3,000 pounds each. It also came in handy when he needed a way to set large boulders, some of them 5,000 pounds each. To ensure that they were placed in the desired spot, he used a custom-made vacuum which he'd created for a previous project at Upper Fort Garry.
Zinn admits to a feeling of great satisfaction with the results of his labour:  "Every job I work on, my heart is in it. Otherwise, I wouldn't do it."
Wandering through the space, Straub points to the massive slabs of granite inlaid in the soil, explaining that no machinery was involved in their creation. Their smooth surfaces, called 'glacial rubs', were made almost 10,000 years ago by the powerful grinding action of glaciers two kilometres thick.
Straub sits down on a large granite boulder. He points to it and four others, all with seats cut into their sides. Each has a name (Angel, Bella, Big Mac, Boulderette and Rocky), a fact which only adds to the whimsy of the space. Both he and Thurmayr wanted to ensure that the courtyard wasn't overly formal or highly manicured. The idea was to have an ecologically sustainable garden that didn't require a great deal of maintenance or resources.
"It's never going to be done. Trees will eventually grow to provide a nice canopy. In spring, they hope to plant. There's some research integrated in the plantings to increase the biodiversity on campus."
Straub and Thurmayr hope to convince others on campus to start more of these kinds of projects. They feel the UM is 'a bit behind' when it comes to sustainability, stressing the need for more environmentally sound efforts such as the current initiatives of using existing planters to grow produce.
"The best thing that could happen is everybody here, the students, faculty, whoever will become the guardians and stewards of the place, that they treat it with respect. Hopefully they will enjoy it. It will contribute to their wellbeing on our campus. That was the Faculty's intention:  to provide something for their wellbeing."
JO DAVIES