About the Class of 2020 Graduation Package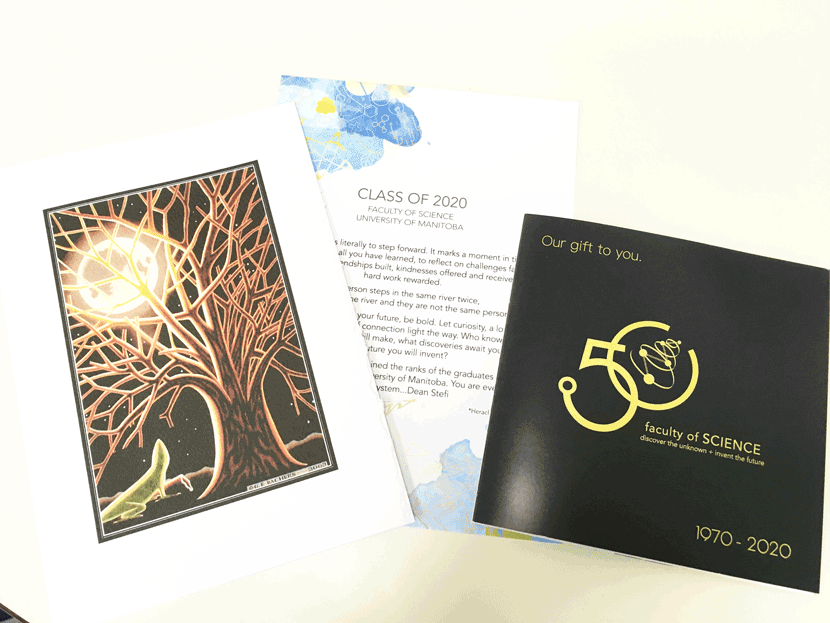 This year, a special graduation package was sent to each member of the class of 2020. The package included a special message of congratulations from the Dean of Science, Stefi Baum, a commemorative coin celebrating the 50th-anniversary celebration of the Faculty of Science, and perhaps most special, an art card from artist Gary Bachers a UM Faculty of Science Alumnus.
Gary Bachers [BSc/70], started life in Winnipeg, Canada, where he studied organic chemistry and medicine at the University of Manitoba before moving to Texas to practice medicine and raise a family with his wife Gabrielle.
His life changed in 1987 when, at the age of 38, a stroke left him partially paralyzed and unable to speak or write. In his need to express himself, Bachers discovered and slowly perfected a new personal language of visual art. Working primarily with colored wax pencils, he weaves his compositions with images of the full moon hovering above detailed landscapes of flowers, trees, children, and lizards, often framed by mandala-like designs. His exhibitions are appropriately titled "Silent Conversations".
Interestingly, this year, 2020 marks the 50th-anniversary celebration of the establishment of the Faculty of Science at the University of Manitoba, and coincidentally, the year Bachers graduated and received the gold medal in Chemistry from the University of Manitoba.
To the class of 2020, and all those who aspire to do great things in the future, we hope this inspires you.
To learn more about the art of Gary Bachers please visit: www.garybachers.com
---
Be part of the celebration!
Faculty of Science Graduation Video Celebration 
Monday, June 22, 2020 at 3PM (CDT)
Featuring UM Faculty of Science Alumni: Nobel Laureate Dr. Jim Peebles, and a performance by JUNO Award-winning singer-songwriter William Prince, + many more.
Upload your message to the Class of 2020 here or share it with us on Instagram, Twitter, or Facebook tag @umanitobasci use hashtag #umanitobasci #class2020.