Hocus pocus and away we go: Science Rendezvous volunteers make magic (again)
"Double, double toil and trouble; Fire burn and cauldron bubble." – Macbeth, Act IV, Scene I
When it comes to potions, there's few more famous than the one whipped up by the three witches in "Macbeth," William Shakespeare's ghostly tale of murder and mayhem. Ingredients such as "eye of newt" and "toe of frog" are just some of the fanciful components of the brew that are mentioned, all meant to be used to predict the future of the murderous Scottish king.
Potions also play a significant role in Science Rendezvous, (Canada's annual celebration of science and engineering), where they've been featured in their very own show for the past few years. Inspired by the potions classes found in J.K. Rowlings' Harry Potter series, these concoctions are meant not only to amaze but to educate audiences about Chemistry, too.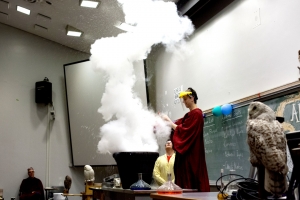 A collaboration between student volunteers from the University of Manitoba and University of Winnipeg, as well the U of M's Theatre Department, the scripted Chemistry Potions Class show hopes to entertain and mystify thousands of attendees. Shows will take place on Discover Days (May 3 and 4), for elementary schools; as well as on Saturday, May 11, 2019, during Science Rendezvous' a free family festival, for the public at the University of Manitoba, Fort Garry Campus.
What: Science Rendezvous 2019
Free Family Science and Engineering Festival
When: Saturday, May 11, 2019, 11am – 4pm
Where: University of Manitoba, Fort Garry Campus,
UMSU University Centre, and EITC Engineering Buildings
50+ hands-on activities, live shows, and tours!
Web: www.sciencerendezvous.ca/event_sites/university-of-manitoba/ 
Last year, live shows at Science Rendezvous were jam-packed. Attendance has increased each year by approximately 1,000 people. As such, the show has relocated from the Armes Lecture Hall to the larger second-floor multi-purpose room in UMSU University Centre. The show will run four times on Saturday to accommodate the expected 6,000+ visitors to the festival.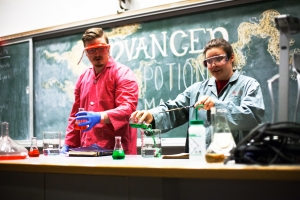 Volunteer Kyle Saunders, a chemistry student at the U of W, remembers the 2018 Hogwarts-themed potions show fondly:
"My favourite part of [it] were the experiments that "affected" the muggle electrical system. Due to a powerful spell, the lights shut off and we were stuck in the dark. Each student in the potions class used their own experiment in attempt to bring the lights back on. This was a great opportunity for us to show off our experiments that demonstrated different light sources."
Saunders adds:
"Science Rendezvous is a great opportunity for me to share my love for chemistry with a younger generation. I would encourage any family to come join us."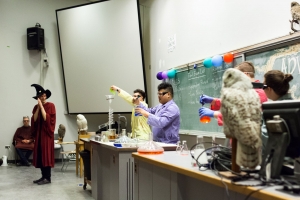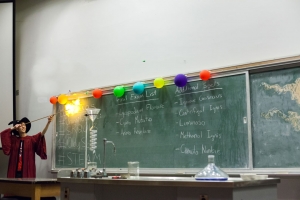 U of M Microbiology undergrad and SR volunteer Kartik Sachar remembers the behind-the-scenes efforts to create and present the potions class as a highlight of last year's event:
"Our great team had spent so many hours of preparation and development for an amazing show. The smiles on people's faces when they see an exciting chemical reaction makes me glad to come back every year."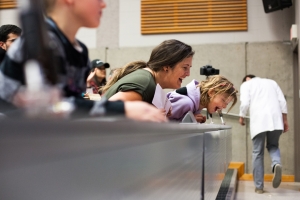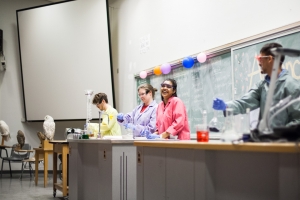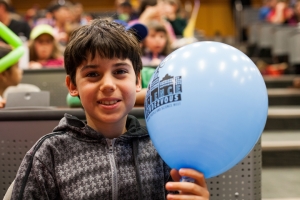 Like most events of this scope, it takes a lot of willing volunteers to make it a success.  Without the students' collective energy and enthusiasm, it would be impossible to present this fantastic (and free!) celebration each year.
U of M Physics undergrad and SR volunteer Neil Doerksen knows this for a fact. He's particularly proud of the Physics show, which he has spent many hours helping to produce:
"This year, our gem is the Physics Adventure Show and all are welcome! Not to give away too much, but [it] has an evil (not-so) genius trying to take over the world."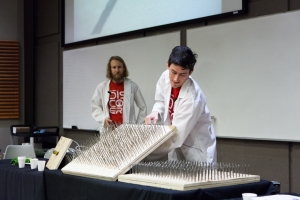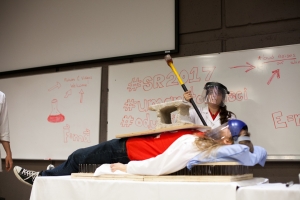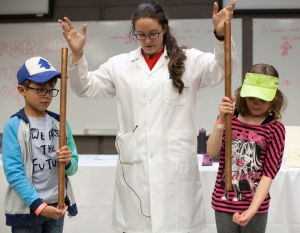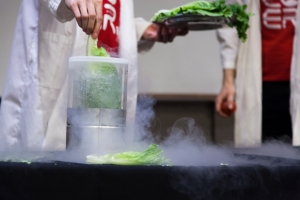 As Event Coordinator for this year's SR, Kyla Smith is equally sure that audiences will be impressed with the all-new production, observing that it is "witty and fun with more than a few physics stunts that are sure to make audiences gasp!"  
One misconception that the general public might have is that they need to have a background in science to enjoy SR. Sachar wants families to know that it just isn't true. Anyone can enjoy the activities on offer. Just be sure to bring your natural curiosity and sense of fun to the UofM campus for Science Rendezvous, on Saturday, May 11th, and you'll be good to go.
By Jo Davies
---
Science Rendezvous is a free annual science festival, a signature marquee partner event of the Natural Sciences and Engineering Research Council of Canada (NSERC), Science Odyssey Week, May 4 – 19. A celebration of Discovery & Innovation. Science Rendezvous, at the University of Manitoba it is made possible by the efforts of over 600+ student volunteers. It includes indoor and outdoor hands-on STEAM (science, technology, engineering, art, and math) activities.