What led Honoured Alum Dr. Mark Evans to become a leading innovator and entrepreneur in Winnipeg
Back in the days when computer science was relatively new, Dr. Mark Evans was a student writing code in Mr. Fast's class at River East Collegiate. He remembers learning the coding language FORTRAN, as well as using punch cards to run programs. In his first year in Computer Science at the UM in 1980, punch cards were still in use. However, under the guidance of Professor David Scuse, Evans progressed to PASCAL, and also learned assembly language. This knowledge allowed Evans and his classmates to "… get down into the absolute mapping – instruction for instruction – at the lowest level of computing". In 1981, Evans worked for Scuse, who gave him access to a dummy terminal and the ability to use PL/I programs. Scuse eventually became Evans' PhD supervisor.
"He was my prof, and I really liked his thought process and his personality. I worked for him the next two years. He went to York University, and stayed there. The first year of my MSc he was at York. When he came back, he was interested in artificial intelligence. That's what I was interested in. So he was my advisor going through that."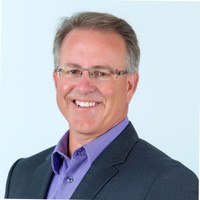 Evans wrote his PhD thesis on Distributed A.I., going on to become an Assistant Professor in the U of M's Department of Computer Science in January 1988. He focused his research in applied sciences, doing a number of different projects early on. He worked with the U of M's Solomon Sinclair Farm Management Institute to develop a fertilizer management system, as well as the Department of Architecture on smart building analysis. When one of his former undergrad students returned to the U of M to do an MSc under his supervision, Evans worked with him to develop an expert system for a financial planning firm.
That research became a prototype for Evans' first software company, EISI. Based in Winnipeg, it was created in 1990 and proved to be a huge success when its software (NaviPlan) became an industry staple.
"We did an R&D plan on it for the first five years, commercialized it in 1995 initially with Investors Group, then Royal Bank, TD Bank, Bank of Montreal. We eventually took it into the U.S. with Ameriprise Financial, Prudential, MetLife, Morgan Stanley. Built that up and then sold it in 2011.

"[Financial planning] was of interest because it was an ideal situation where you had all this complexity and all these different possible combinations of things. If you could find some intelligent algorithms that could potentially reduce the search down to what was applicable for a given client, that would be of interest."
Looking back on the process of starting EISI, Evans reflects on some of the hurdles he faced. He says that thirty years ago, the technology required wasn't sufficiently developed for their needs. Evans also thinks that a business background would have been extremely beneficial.
"When I went through [university], we didn't do any business courses. When you get out into the workforce, having that business acumen and that background would be very beneficial. Not only in terms of you wanting to start your own business but also just to work within a business. To know how things operate, how departments work with departments, how groups work and how things are funded. I had to learn all that by the seat of my pants. But it would have been beneficial to have some of that background right out of school."

"That's another thing with business acumen and looking at things like human resource policies and procedures: how to work with different personalities. When you're going to run a company, they're not all the same. They can't all be like you. In fact, the better cross section you have, the more successful you're going to be. But now you've got to figure out how to make all of that work together."
One thing Evans made work were the resources on offer from the UM's Computer Science Co-op program. He estimates that in the early 2000's, EISI was hiring nearly a dozen co-op students each term to help the company scale up. The students gained valuable work experience while Evans' team could test them out and ultimately hire them if everything went well.
Now Evans is starting another company, called Conquest Planning. Utilizing his hard-earned experience, Evans speculates that at a year and a half into development Conquest is where his team would have been in Year 7 with EISI. The difference lies in the knowledge and connections Evans has now, as well as technology that has had 25 years to improve. He's eager to develop a better system for both new and returning clients. The irony of his new company competing directly with the one founded decades ago isn't lost on Evans.
"They're our target in Canada because they have the biggest market share. Part of the problem was that after we left [EISI], they didn't really move the product along. People were disgruntled with the service they were getting. There wasn't really any competition, so they were stuck using them. When we came along, they were like 'Oh, we're definitely interested in what you're doing'".
Asked how it feels to be at this point in his career and starting a new venture, Evans is confident:
"I'm enjoying it. I sit on a couple other boards. We've built this up. Had our first round of funding on this company. It's fun. The second time around is easier. You know what you know. You know what things to avoid and what pitfalls might be coming and how to plan to deal with them. It's been fun."
By Jo Davies
---
Careers in Science Panel and Roundtable
2020 Faculty of Science Honoured Alumni Awards

Recognizing graduates who have made remarkable contributions to discovering the unknown, inventing the future, and advancing the well-being of society.
January, 30, 2020
Marshall McLuhan Hall (University Centre)
University of Manitoba, Fort Garry Campus
3:30 pm- 5:00 pm
The event is an opportunity for undergraduate and graduate students to learn about careers in Science while honouring exceptional alumni and celebrating their achievements.
A reception will follow. Everyone is welcome to attend.
For more information please click here.