At the forefront of discovery – nuclear physicist Jeff Martin is constructing a new source of ultracold neutrons (UCNs)
Dr. Jeff Martin, recipient 2019 Faculty of Science Honoured Alumni Awards
When it comes to puns about the cold, Dr. Jeff Martin (Tier 1 Canada Research Chair in Fundamental Symmetries in Subatomic Physics) has likely heard them all. Not only did he grow up in Southern Manitoba and attend university in "Winterpeg"; as the lead scientist at TRIUMF, Canada's particle accelerator centre, the University of Winnipeg professor has recently constructed a new source of ultracold neutrons (UCNs). He hopes they will help to solve one of physics' longstanding mysteries:  if the Big Bang created equal amounts of matter and anti-matter, why do we see only matter?
Scientists theorize that since UCNs (neutrons cooled and slowed to 5 metres per second, relatively Usain Bolt's speed) move slowly enough to be trapped and contained in special bottles, they can be used to take a number of measurements crucial to fundamental physics. One such measurement is the neutron electric dipole moment (nEDM). Currently, the nEDM is predicted to be infinitesimally small, but if it proves to be bigger, it might help to explain why there is so much more matter than antimatter to be seen in the universe.
"If [the nEDM] is found to be nonzero, it is almost certainly an indication of new physics.  By 'new', I mean totally new, as in not explained by physics as we know it (the Standard Model).  One reason people think the nEDM might not be zero is because it violates a symmetry of nature that is equivalent to the symmetry between matter and antimatter.  Generally, when antimatter is created in a lab, equal parts matter and antimatter must be created.  But in the universe, we know that everything seems to be made of matter, with practically no antimatter being seen anywhere.  This is one of the big unsolved puzzles of physics, the matter-antimatter imbalance of the universe, and it is possible that ultracold neutrons (UCNs) could help to solve it."

Not only will this new source of UCNs help with the matter/antimatter enigma (also known as the baryon asymmetry); it's already served to vault Canada onto the world stage as a serious contender in the ongoing international race to the first nEDM measurement. Fellow competitors, including the U.S., Russia, France, England, Germany and Switzerland, are all experimenting with UCN nEDM, as the first to observe such an entity would take a significant step toward contention for a Nobel Prize.
For Martin, it's a far cry from his days growing up on a farm near Crystal City, Manitoba. He initially opted to study computer science, but changed his plans when he discovered he had an aptitude for physics. After obtaining his BSc (Hons) from the UofM, Martin went on to earn a PhD from the storied Massachusetts Institute of Technology in 2000. Next up was a post-doc at the California Institute of Technology, after which he made the move back to Manitoba and the UofW.
When asked what he might tell his younger self, knowing what he does now, Martin is emphatic in his response:
"What I wish I had known earlier in my career was the importance of picking the most aggressive science experiments and just going for it.  In science, it is really important to be at the forefront of human knowledge at all times.  So, I think I would advise myself: 'pick the top science experiment and push it as hard as you can all the way through to completion'.  That's what I do now.  I just wish I had started doing it earlier."
If Martin regrets waiting to become more proactive in his approach to research, one thing he most certainly does not regret is meeting his wife (also a physicist) at the U of M during his undergrad years.
"I think my favourite memories of U of M are of late nights spent working together on homework and labs with my friends and my future wife."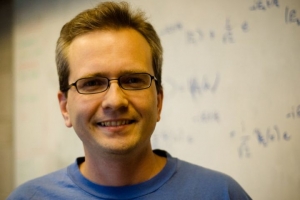 Professionally, Martin's achievements seem to have come full circle. He originally worked at TRIUMF as a summer student in 1993 during his undergrad years at UofM. In fact, his current team at TRIUMF includes some of the same researchers he met back then.
Flash forward 17 years to 2004, when Martin joined the UofW's Department of Physics, becoming the principal investigator of the TRIUMF UCN source and future nEDM in 2011. At that point, it was his goal to create Canada's first UCN source and to make it the highest intensity of its kind in the world.
Martin also formed a Japanese-Canadian collaboration called TUCAN (TRIUMF Ultra-Cold Advanced Neutron source), partnering with Japan's High-Energy Research Accelerator Organization (KEK), the Research Centre for Nuclear Physics of Osaka University, Nagoya University and researchers from several other Canadian institutions. As the lead investigator, Martin has seen the project attract over $27 million in funding from a variety of sponsors, from government agencies (NSERC) to the private sector (CFI) and various industries here and abroad.
Unsurprisingly for someone who regularly collaborates with others, Martin enjoys working with students, no matter what level or ability. He takes pleasure in witnessing the evolution from neophyte lab student to accomplished researcher. His own undergraduate research supervisor, Dr. Shelley Page, is now a close colleague, whom Martin considers one of his most trusted advisors.
At this point in his career, Martin feels that he's accomplished enough not to be "too young" for the title of "Honoured Alum". He was both surprised and pleased to discover that he had been nominated by his department, and is looking forward to coming back to his alma mater for the event. Until then, he will continue work on solving that "little" problem of matter-antimatter asymmetry in the universe. Just another day at the office.