International award-winning cosmic image
Dr. Jayanne English wins 2nd place in prestigious National Radio Astronomy Observatory image contest
Dr. Jayanne English, an expert in astronomy image-making in the Department of Physics and Astronomy, at the University of Manitoba won 2nd place in the prestigious National Radio Astronomy Observatory (NRAO) cosmic image contest for her latest cosmic image, a composite VLA and Hubble Space Telescope image revealing the extended magnetic field of the galaxy NGC 5775. Named: Magnetic Field of Galaxy NGC 5775.  
According to the NROA website:
Astronomers from around the world earned honors in the National Radio Astronomy Observatory's (NRAO) image contest held as part of celebrating the upcoming 40th anniversary of the Karl G. Jansky Very Large Array (VLA). The winning entries, along with those earning honorable mentions, illustrate celestial objects from our own Solar System, our Milky Way Galaxy, distant galaxies, and clusters of galaxies.

Entries, which included videos, animations, and images, were required to include observational radio data obtained with the VLA. A panel of judges from within and outside of NRAO evaluated the entries for high visual impact that would make them compelling for public audiences. Entries were judged on their aesthetics and originality, artistic merit, scientific accuracy, and scientific significance.
Jayanne has a unique background that includes education and experience in art and design, as well as astronomy. She worked on the Hubble Heritage Project during her postdoctoral years.
Learn more
You can learn more about Jayanne's work on Dec. 2, 2020! Sign up to attend her talk, part of the  UM's Virtual Learning for Life Series, online weekly lecture series.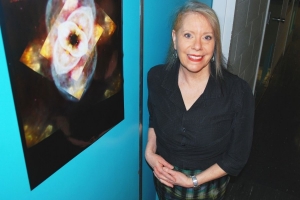 What: Cosmos and canvas
Who: Dr. Jayanne English, Professor, Department of Physics and Astronomy
When: December 2, 2020
Time: 1:00 PM – 2:00 PM
Find out how to register for "The Art of Scientific Visualization (SCI 4000/PHYS 7440)" at the University of Manitoba.