Research and Teaching Interests
My program exists at the exciting convergence of materials physics, materials chemistry and materials engineering. Throughout, I use innovative experimental and simulation methods to determine the physics of nanomagnetism. Highly interdisciplinary, my research has impact across many fields from physics to chemistry to materials engineering, and biochemistry to medicine.
Research Expertise:
magnetism and electronic structure of nanomaterials and interfaces
Research Highlight: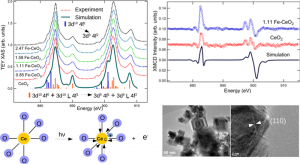 Role of Ce 4f hybridization in the origin of magnetism in nanoceria – the prototypical example of extensive spontaneous ferromagnetism in oxide materials with no magnetic cations.

Links