Research and Teaching Interests
Prof. Page leads the Ultrasonics Research Group, which studies the properties of waves in complex materials with interesting internal structures. Waves in such materials can behave in intriguing ways, which are radically different to normal expectations, and which can be explored with remarkable precision using innovative ultrasonic techniques. His interests range from the discovery of novel wave phenomena in acoustic metamaterials and mesoglasses, to new ultrasonic methods for measuring the structure and dynamics of more commonly encountered materials such as foods.
Research Highlight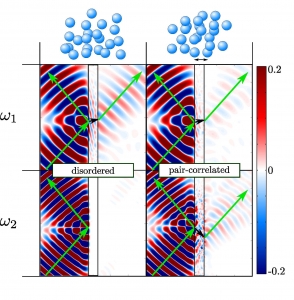 Refraction in singly and doubly negative acoustic metamaterials containing air bubbles in a gel.  When the bubbles are randomly positioned, only normal refraction is observed (left), but when the bubbles are arranged in pairs at a fixed separation, the beam is negatively refracted at frequency w2 (lower right).  [Lanoy et al, Phys. Rev. B 96, 220201(R) (2017)].
Links