Canada's first national-level research commercialization program is now available in Manitoba.
Inspiring creativity, innovation, and future change-makers.
Entrepreneurship & Innovation
Competitions and Challenges & Upcoming Events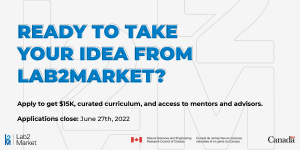 Applications for Lab2Market NSERC Fall 2022 Cohort are now open!
This program is delivered in partnership with the Natural Sciences and Engineering Research Council of Canada (NSERC) and is an extension of the Idea to Innovation (I2I) Market Assessment Grant.
This 4-month program offers:
Curriculum (lectures, talks, and workshops) designed to introduce researchers to the world of entrepreneurship.
An advisor network (founders, industry leaders, and service providers) to help researchers through their business venture.
A community of like-minded entrepreneurs.
$15,000 in funding to support researchers in getting their idea off the ground.
The opportunity for future funding through the NSERC I2I Phase I grant.
Applications close on June 27th, 2022.
If you have any questions or concerns, please feel free to reach out to our Learning & Recruitment Specialist, Wesley Kosiba, wkosiba@ryerson.ca.
---

RampUp Weekend
Ready to create the next multi-million dollar startup in Manitoba? Want a chance to win $10,000?
After 2 years, Manitoba's most anticipated startup event is back!
RampUp Weekend (#RampUp2022) pulls together developers, designers, makers, and entrepreneurs to build a minimum viable product (MVP) in 55 hours.
The event that launched three very successful companies – Permission Click, Go Oil, and Taiv – will be held in person at the Smartpark Innovation Hub (University of Manitoba)
A limited number of registrations are available – save your spot now!
#DareToDo
---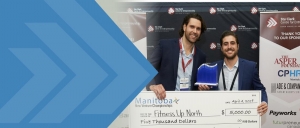 Stu Clark New Venture Championships
Meet our Alumni Entrepreneurs
Faculty of Science Entrepreneurs
If so, we want to hear from you! Please contact Christa Kruck, Alumni Relations, and Graduate Programs Coordinator, Faculty of Science, to learn more about opportunities to connect at the UM Faculty of Science.
Business Development Opportunities
Are you interested in exploring partnership opportunities? Please contact Jolen Galaugher, Business Development and Industry Liason.