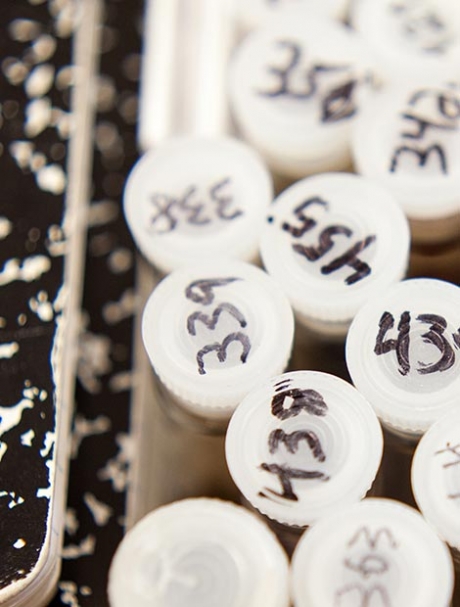 Undergraduate Research Opportunities
There are so many great opportunities available for research in the Faculty of Science. Gain first-hand science experience in our student labs as a summer research assistant. Participate in the University of Manitoba's Undergraduate Research Poster competition, and have your research published in our own Undergraduate Student Peer Reviewed Journal.
Faculty of Science Undergraduate Research Student Awards (URSAs)
Work alongside world-renowned scientists who are discovering major breakthroughs in many scientific fields. Along with the excitement of conducting research is the added bonus of developing skills, meeting new people, and being involved in your area of interests.
Funding for summer research is provided by a number of sources including: NSERC (Natural Sciences and Engineering Research Council), the Faculty of Science, or through grants held by professors in the Faculty of Science.
If you are interested in working in a lab for the summer, September is the time to start making enquiries; applications are generally due at the end of Fall term. Check with your Professors or with the Departments in the Faculty of Science to learn more about summer student research opportunities.
For more information please visit the Faculty of Science Undergraduate Research Awards (URSAs).
Undergraduate Research Award (URAs)
The Office of the Vice-President, Research and International, in partnership with the University of  Manitoba Student Union (UMSU) is pleased to offer this exciting opportunity for up to 172 students.  Ten awards will be dedicated to Indigenous students and two awards will be dedicated for community-based research projects.
The Undergraduate Research Awards offer:
A rewarding experience for students to be mentored full-time with a professor of their choice for 16 weeks (May to August) and to gain valuable experience in their field of interest.
a $7,000 monetary award
For more information please visit: http://umanitoba.ca/research/experience_research/about.html
The University of Manitoba Undergraduate Research Poster Competition
A showcase of undergraduate student's expertise and passion for research, the Undergraduate Research Poster Competition is an annual event that takes place in the fall at the University of Manitoba. Prizes of $500.00, $300.00 and $200.00 will be awarded to the top three posters in each of the following five categories: Applied Sciences, Natural Sciences, Health Sciences, Social Sciences/Humanities and Creative Works. The event gives undergraduate students the opportunity to present research they've conducted with their supervisors over the past year. The breadth and variety of research is significant.
Undergraduate Student Peer Reviewed Journal – Proceedings of Manitoba's Undergraduate Science and Engineering Research (PMUSER)
The Proceedings of Manitoba's Undergraduate Science and Engineering Research journal is an online open-access refereed journal published annually and hosted by the University of Manitoba. The journal accepts research or review manuscripts written by undergraduate students from any science related faculty including, but not limited to Engineering, Science, Human Ecology, Environment, Earth, and Resources, Agriculture and Food Sciences, Nursing and Medicine. Upon submission, each manuscript will undergo a blind peer-review process by two undergraduate students from a pool associated with the respective research area. A suitable professor will also be recruited from each Faculty who will serve as an supervisor to the student peer-reviewers. In addition to research or review manuscripts, the journal will also serve as a source for students to gain insight into current research opportunities. Interviews with Co-op, Honours thesis, and summer students will be conducted that thoroughly describe their experiences. Professors and principle investigators hiring student researchers will also be interviewed for their advice to future student researchers. Finally, the journal will have a page advertising undergraduate student research positions, as well as general programs offering summer stipends or studentships. Contact PMUSER here.