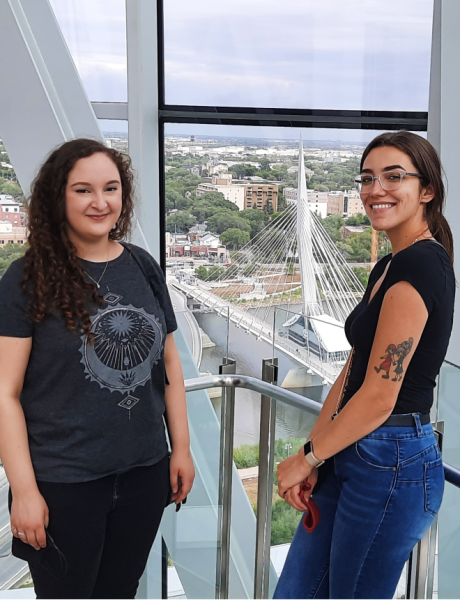 Summer orientation-Think beyond
Attending a big university—especially in a bustling city like Winnipeg—and taking on a science degree can be overwhelming. Even though it's exciting, there's so much to get used to new people, the campus layout, the academic rigour and possibly living away from home. Spending six weeks at summer orientation erases the newness and helps get you comfortable. By the time classes start in the fall, you're ready for its challenges. You'll have a track record of success to build your confidence in what you know and what you can accomplish.
Of course, this orientation will include what other first-year students get at colleges and universities worldwide – campus tours, icebreakers, social events, and lots of food. As a Wawatay scholar, however, you'll experience so much more. You will tour a variety of research labs as well as the campus greenhouse, planetarium, and the Indigenous Student Centre (aka Migizi Agamik). You'll have lunch (and it will be more than just pizza) with local Indigenous business leaders and research scientists representing a wide array of disciplines. These talks will give you a glimpse of what's possible for you as an emerging science student and future scientist.
One unified team
You won't just break t ice with the others in your cohort, you'll melt into water and become one unified team. At least that's the goal. You'll have meals together – sometimes at restaurants; partake in adventures in Winnipeg and surrounding areas – sometimes hosted by Indigenous science students; and frequent sharing circles.
And about that confidence mentioned above… you'll spend three weeks honing skills such as writing, oral presentation, and project management. Skills that not only prepare you for academics but will be useful in your career. After that, you'll break into small teams to work on a research project led by an instructor. Orientation ends with you and your team presenting your project results.
By the way, at the midpoint, you get a long weekend so you can visit home!
Wawatay students who successfully complete the summer orientation will receive a stipend for the 2023 session. For more information, please contact us.